Rakuten Review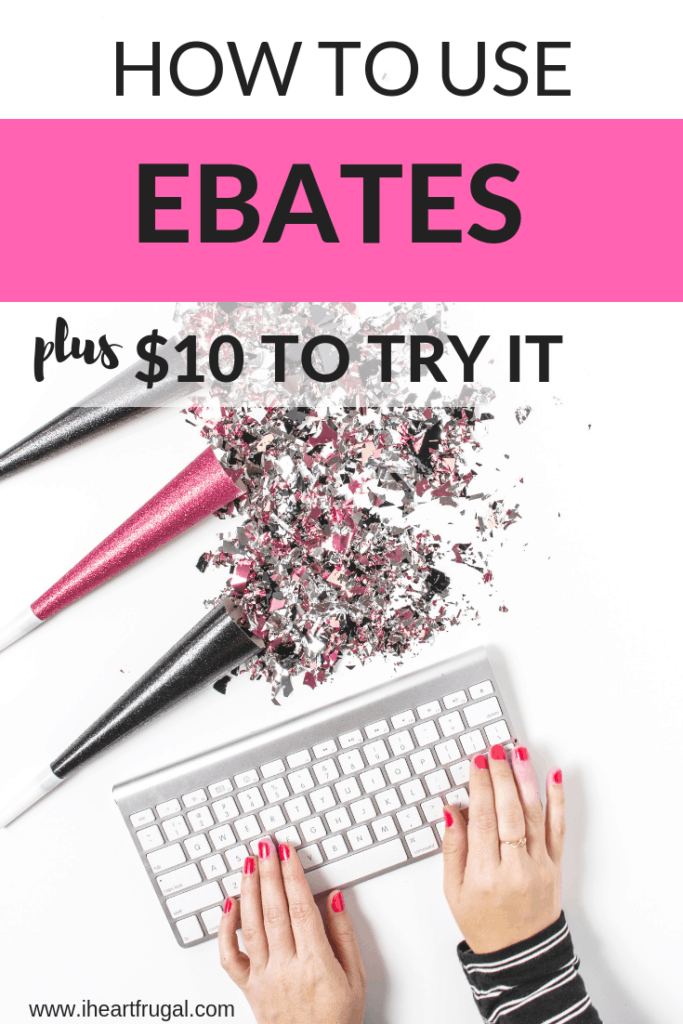 This post contains affiliate links. This means if you click a link and make a purchase, I will receive a small commission at no cost to you, so thank you! 
Have you heard of Rakuten (formerly known as Ebates)? Rakuten is a popular cashback app or website (whatever you prefer) that earns you money back each time you shop online. Rakuten offers cash back at thousands of popular stores and is a great way to save money.
In today's world, who doesn't shop online?
According to a UPS survey, 51% of all shopping is done online. It is super easy to browse and shop from the comfort of your own home. Yet, this makes it more difficult to coupon and save like you would at a brick and motor store. However, Ebates helps ease this financial burden because you earn money back with your online purchase. Rakuten is a wonderful way to start making money on everyday items you buy online or use it during the Holidays or when buying birthday gifts to earn some cash back.
Rakuten is free to join and you can earn $10 just for signing up. You have nothing to lose!
How Does Rakuten Work?
Ebates is a site that gives a percentage back of your total when purchasing something from one of their thousands of online retailers.
Shop online as usual but go to your Rakuten account first, and yes, they do have an app for that.  You can also install Ebates on your browser and it will pop up to click and track your purchase. This saves you a step and you are now close to earning. Moreover, you can choose among literally thousands of online stores and Ebates will tell you how much of a percent you will make. This will vary from store to store. (Usually between 2-9%) Some of my favorites are Target, Priceline, Macy's, Groupon, and Amazon.
When you sign up for the Rakuten app or go to the website you will see a screen like the one below. As you can see, Ebates will recommend stores you shop at once you start using it more.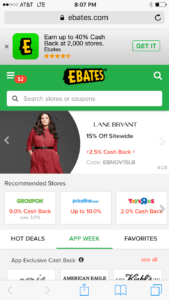 All you have to do is click your store through their site before you check out. Next, the site will direct you to the shopping site and it will track your purchase.
For example, if I wanted to buy something from Groupon, I would first go to my Rakuten account. I would find Groupon (on my account it is at the top because I saved it as one of my preferred stores so I do not have to search for it). Then I click on Groupon or one of the coupons the site is offering for Groupon and it redirects me to the Groupon site where I finally make my purchase. Super easy!
It still works even if you have already added items to your shopping back. Just go back and click through Rakuten to make sure you get your extra cash.
The best part is it is totally legit! Over seven years ago I started using Rakuten. Every quarter, I anxiously await my Ebates check and I have never been let down.
Related Money-Making Posts:
How Do I Make Money?
First, things first want to earn $10?!? You will earn $10 just by signing up. Click here to receive your credit in the form of a gift card: Rakuten
See, that was an easy way to make $10.  You may be asking, where does the rest of my money come from?
Why Does Rakuten Give Me Money Back?
Rakuten is using a form of affiliate marketing. When they refer you to a store, they earn a commission for the referral. It doesn't cost you anything but Rakuten makes money if you buy something. They are giving you a percent back of the money they make. Pretty cool, right?
What Stores Are On Rakuten?
It is easy to find your favorite stores on Ebates since there are thousands to choose from. Here are some of my favorite, but go to the site and search your favorite. My guess is, they will be listed.
Target (percent is usually low, but better than nothing)
Groupon
Priceline
Walmart
Macy's
JC Penny's
Khol's
Chicos
Old Navy
Amazon
Athleta
eBay
Petco
These are some of my favorites, but there are SO  many more.
Many are surprised to see Amazon listed and ask "how does Ebates work with Amazon?" However, it is the same as other online stores. Just click through to Amazon or eBay and start your tracking cookie. Then earn cash back on your purchase.
Pro Tip: Pay attention to the percentage of cash back you will earn. Rakuten often has deals where you will earn more money back, so the percentage is subject to change. For example, Rakuten Walmart was once listed at 8% cash back but may drop to 5% at different times.
Is There a Catch with Rakuten?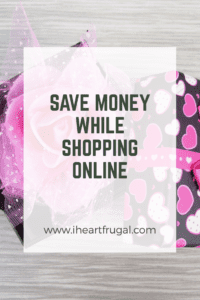 Rakuten will direct you to the site and track your purchase. Although Ebates is usually pretty fast it can take up to a day for your credit to show up.
If for some reason you do not see your credit, you can copy and paste your receipt to Rakuten support. Unfortunately, this happened to me once and they quickly credited me with no hassle.  I found their customer service to be extremely fast and helpful.
There is a $5 threshold before you will be paid and a $50 cap. So if you are making a big purchase, like a trip on Priceline, the most you will be paid for that shopping trip is $50.
Can I Use Rakuten for Travel?
Visiting family this Holiday Season and need a hotel room?  Many of you know exactly what I mean. So don't forget to go through Rakuten. This is how my husband earned his largest check.  He went through the site to book a Priceline deal and got credited for his travel. Two deals in one! I love that!
Some of the most popular travel sites listed on Ebates:
Priceline
Expedia
Hilton
Best Western
Booking.com
Holiday Inn
Check the site because there are many more companies listed that will earn you cashback using Rakuten.
Why Trust Rakuten & Is Rakuten Safe? 
Rakuten is a trusted site with an A+ rating by the Better Business Bureau.  Furthermore, you can count on them to pay you your earnings. Also, check this company out on the Better Business Bureau before you sign up if you want to see the rating with your own eyes. Nonetheless, I have used them for years and I am literally mad at myself when I forget to go through Rakuten. I just left money on the table! Don't let it happen to you.
I have been using Rakuten for over six years and I can vouch for their safety. I have never had any issues after signing up for Rakuten and using Rakuten has only been a pleasant experience. I love getting money back on things I am going to buy anyway.
The Rakuten App
Do you usually shop from your phone like me? Then check out the Rakuten app.
Once you download the Ebates App from the App store, you can use it just like you would on your computer. Click on the app and choose your store. Once you click on your store a screen will pop up letting you know your shopping trip is activated and send you to your store. Simple!
Rakuten Review Conclusion:
Why not try it?  You deserve a check this Holiday Season or anytime.
As always, I hope this post was helpful!  Keep your eyes out for more Holiday posts and more ways to save and earn money.  Enjoy this wonderful time with your family! Wishing you the best from I Heart Frugal.
For more budgeting and money-saving tips, sign up for the I Heart Frugal Newsletter below:
Related Posts:
Rakuten Review