Ibotta Review – Learn the Ins and Outs of Ibotta to Score Extra Cash on Groceries
Do you love saving on your grocery bill? Me too, and I use Ibotta to do just that!
It is a needed expense but sometimes it can literally eat up your monthly budget. I'd like to lower my grocery cost but with two kids and a husband, we are mainly buying budget food we need and we don't really go overboard. (Well, maybe a little at Costco)….
Luckily, there are ways to help the average person save! The Ibotta app actually gives you money back on your grocery bill and other items you buy and it is super easy to use!
I've been using Ibotta for around two years! It saves me the hassle of always having coupons with me. Although, you can stack coupons with this app. so you can double dip your savings!
Below you will find out how to use Ibotta and why I like it! I have made over $216 to date just by submitting my grocery receipts. Why leave money on the table?
Click my Ibotta link here and get $10 when you submit your first receipt!
Related: Ebates Review: Is It Worth It?
This post contains affiliate links. If you click a link and make a purchase or use a code, I will receive a small commission at no cost to you, so thank you!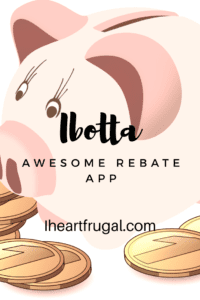 How do I Ibotta?
First and foremost, Download the app! Use code pim5uw or click my Ibotta link here to receive an Extra $10 when signing up!
After you have the app, check the shopping sections and find your store. For example, if you need food, go to the groceries category. Select the store you will be shopping at (like Target or Kroger) and find items you plan on buying. However, I don't suggest buying things you don't need just because they are on the app.
Secondly, do your shopping! Buy the items you need!! Make sure you save your receipt!
When you are home from the store, get ready to Ibotta like a pro! Go to the app and highlight the items you purchased. Then scan the barcode of those items. After this is complete, upload a picture of your receipt. Don't worry if it is long. You can take multiple pictures by pressing the add more button.
Ibotta is also now allowing you to sync your store loyalty cards and use QR codes which can be scanned at checkout for automatic redemption.  This is similar to the Target Cartwheel app, where you scan your barcode at checkout. Check out my post on Cartwheel to learn more.
I suggest doing your Ibotta receipts right when you get home from the store.  In this way, you will not have to search for items you have already put away and/or forget.
It is as easy as pie!! – I hope you bought some pie and got credit for it too!!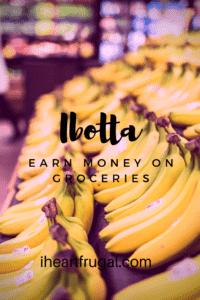 Bam! The money is in your profile! After you have earned, you can cash out through PayPal or Venmo. If you prefer, you can choose an awesome gift card such as Target, Old Navy, or Amazon! The minimum for cash out and most gift cards is $20.00. Yet, this is not difficult to accumulate.
Shopping With Ibotta
All of your favorite stores are listed on Ibotta. Just to name a few...Target, Costco, Walmart, Meijer, Kroger, Dollar Tree, Family Dollar and Dollar General! Check the app for even more stores!
Bonus!!
The Ibotta app also offers bonuses for buying certain products in a category. For example, during Thanksgiving, if you bought so many Thanksgiving-related items listed, you received bonus money.
You can also work as a team to earn extra bonuses. Check it out!
Ibotta Review Conclusion:
Keep up the good work! You just earned extra money for buying your regular groceries!
If you forget to check Ibotta before you shop, be sure to look up your items when you get home. You may get lucky and find things you bought on the app. Ibotta often has an "any items" rebate which gives you $.025 for any item you purchased at one of the listed stores.
I LOVE Ibotta because it is easy to use and I don't need to clip coupons to earn. That is why I will continue to use Ibotta to earn and I hope you will too!
I do have to say, it takes a little bit of time after you shop, but in the end, it is worth it!! You can put money back in your pocket for more groceries or whatever you need!!
Please feel free to leave me a comment or a question about Ibotta! Be on the lookout for more rebate app posts!
Take care!- Sarah

Related Articles