Ibotta Review 2021- Learn the Ins and Outs of Ibotta to Score Extra Cash on Groceries
Do you love saving on your grocery bill? Me too, and I use Ibotta to do just that! Yet, many are leary about money-making cash back apps and I can understand why. Therefore, I have compiled an Ibotta review to let you know if Ibotta is legit and worth it to use on a daily or weekly basis.
It is a needed expense but sometimes it can literally eat up your monthly budget. I'd like to lower my grocery cost but with two kids and a husband, we are mainly buying budget food we need and we don't really go overboard. (Well, maybe a little at Costco)….
What Is Ibotta?
Luckily, there are ways to help the average person save! The Ibotta app actually gives you money back on your grocery bill and other items you buy and it is super easy to use!
I've been using Ibotta for around two years! It saves me the hassle of always having coupons with me. Although, you can stack coupons with this app. so you can double dip your savings!
Below you will find out how to use Ibotta and why I like it! I have made over $216 to date just by submitting my grocery receipts. Why leave money on the table?
Click my Ibotta link here and get $10 when you submit your first receipt!
Related: Ebates Review: Is It Worth It?
This post contains affiliate links. If you click a link and make a purchase or use a code, I will receive a small commission at no cost to you, so thank you!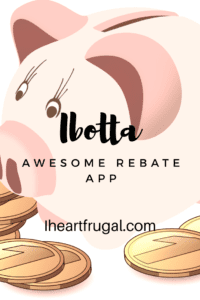 How Does Ibotta Work?
First and foremost, Download the app! Use code pim5uw or click my Ibotta link here to receive an Extra $10 when signing up!
After you have the app, check the shopping sections, and find your store. For example, if you need food, go to the grocery category. Select the store you will be shopping at (like Target or Kroger) and find items you plan on buying.
Secondly, do your shopping! Buy the items you need!! Make sure you save your receipt!
You can now use a browser extension on your computer to help you save even more with Ibotta.
Time Saver: Ibotta also allows you to link your store cards so you don't have to upload receipts. I haven't done this yet, because I upload my husband's receipts as well, but it may be worth it if your hubby also uses Ibotta.
How to Use Ibotta in 2021:
When you are home from the store, get ready to Ibotta like a pro! Go to the app and highlight the items you purchased. Then scan the barcode of those items. After this is complete, upload a picture of your receipt. Don't worry if it is long. You can take multiple pictures by pressing the add more button.
For certain items, Ibotta asks you to scan the barcode of the product, which is why it is easier to use your app right after shopping so you do not have to pull stuff out again.
Ibotta is also now allowing you to sync your store loyalty cards and use QR codes which can be scanned at checkout for automatic redemption.  This is similar to the Target Cartwheel app, where you scan your barcode at checkout. Check out my post on Cartwheel to learn more.
How Much Time Does It Take?
I suggest uploading your Ibotta receipts right when you get home from the store.  In this way, you will not have to search for items you have already put away and/or forget. It takes about five to ten extra minutes to review and scan everything. It isn't a huge time commitment and I feel it is worth it to get extra money back.
Your money usually shows up in your account within 24 hours, but many times it is within minutes.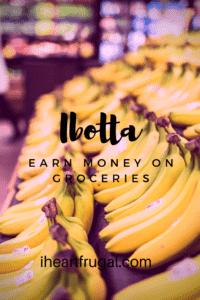 The money is in your profile! After you have earned, you can cash out through PayPal or Venmo. If you prefer, you can choose an awesome gift card such as Target, Old Navy, or Amazon! The minimum for cash out and most gift cards is $20.00. Yet, this is not difficult to accumulate.
Shopping With Ibotta
All of your favorite stores are listed on Ibotta. Just to name a few...Target, Costco, Walmart, Meijer, Kroger, Dollar Tree, Family Dollar and Dollar General! Check the app for even more stores!
Bonus!!
The Ibotta app also offers bonuses for buying certain products in a category. For example, during Thanksgiving, if you bought so many Thanksgiving-related items listed, you received bonus money.
You can also work as a team to earn extra bonuses.
Ibotta Pros:
Earn extra money on groceries
Easy to use
No clipping coupons
Cash-out with Paypal, Venmo, or gift cards
User-friendly
Link store loyalty cards
Ibotta Cons:
Extra time after shopping
Not all stores are listed
Store-specific
Must earn $20 to cash out
How to Maximize Earnings
I find the only way I don't earn on Ibotta is when I forget to use it.
You can ramp up your earnings by checking the "any-brand" items which are things most people buy on a regular basis like bread, orange juice, pasta, frozen food, and more.
You can use coupons at the store and still use Ibotta for rebates to maximize your earnings.
You can also search Ibotta before shopping and do store-match ups, buying things that are on Ibotta and also on sale. However, I don't recommend basing your grocery shopping only on what Ibotta offers. You may end up spending more money because you are buying things you do not need.
You can also maximize your Ibotta earnings by using the money-saving apps below. You can add your receipts to multiple money-saving apps and earn more money.
New Ibotta Features in 2021
Ibotta also offers cashback at stores when you are shopping online. All you have to do is click the store through your Ibotta account. You will get cash back after you shopping trip.
Other Recommended Money-Saving Apps:
This is my favorite app for online shopping.
Formerly known as Ebates, Rakuten is a money-back site that rewards you for doing something you already do: shopping online.
Click through Rakuten before you shop online and you will receive a percentage back of what you spent.
How it works: They make money by referring you to shop at a store and then share their commission with you. The best part is it costs you nothing.
Also, they have thousands of the BEST stores to choose from including Target, Kohl's, Best Buy, Priceline, Macy's, Petco, Bed Bath & Beyond, Groupon, Amazon and so much more. Sign up through my link and receive a $10 bonus just for signing up.
I find the best way to use Rakuten is to install the browser extension so you don't forget to use it. The extension will alert you if the store you are shopping offers cashback.
This newer app is super easy to use!
This cashback app is also a great option because it is so easy to use! All you have to do is scan your receipts. Most of the stores listed are for groceries, yet there are a few select other stores listed on Fetch.
You get points for scanning your receipt but you get more points if you are buying name-brand at grocery stores because they partner with this app.
You can cash out at 3000 points which would equate to a $3 gift card for restaurants, home decor, or my favorite Amazon.
How to get the app: Click this link and it will direct you to the app in your app store. Sign up and get 2000 bonus points
Ibotta Review 2021 Conclusion:
Keep up the good work! You just earned extra money for buying your regular groceries!
If you forget to check Ibotta before you shop, be sure to look up your items when you get home. You may get lucky and find things you bought on the app. Ibotta often has an "any items" rebate which gives you $.025 for any item you purchased at one of the listed stores.
I LOVE Ibotta because it is easy to use and I don't need to clip coupons to earn. That is why I will continue to use Ibotta to earn and I hope you will too!
I do have to say, it takes a little bit of time after you shop, but in the end, it is worth it!! You can put money back in your pocket for more groceries or whatever you need!!
Please feel free to leave me a comment or a question about Ibotta! Be on the lookout for more rebate app posts!
Take care!- Sarah
Related Articles