I Heart Frugal Printables
Printables to make your home life more manageable including organization, kids' activities, and finances!
Featured:
Home Cleaning Planner
Are you ready for Spring cleaning? This home cleaning planner will help get you organized and get all of your Spring cleaning complete.
What you will get:
21 beautiful floral pink pages of home cleaning goodness!
Cover page
This planner belongs to page
Motivation page
Yearly Planner
Monthly Planner
Weekly Planner
Daily Planner
Cleaning Checklists for rooms
Cleaning Roster
Kitchen Checklist
Pantry Inventory
Bathroom Checklist
Bedroom Checklist
Living Room Checklist 
Reminders
Notes
This packet is a life-saver! You will never have to wonder what to learn. You can stay organized and keep up with all of your cleanings and assign different family members jobs. If you need a good deep cleaning this Spring, this packet is for you. 

(digital download – No physical product will be delivered) 
---
Are you ready to start your New Year off right? Then you will want to grab this 23-page printable goals planner. This 8.5 x 11 PDF printable is perfect for setting short-term, long-term, and SMART goals this year. Become the version of yourself, you have always wanted to be! Stay organized and track your goals and habits with this amazing planner! You can finally be successful and hit as many goals as you want to, in 2022!
Pages include Cover page front, 2022 Wall Calendar, monthly challenge, habit tracker, monthly goals, weekly goals, weekly review, goals tasks, books to read, trip goals, daily goals, SMART goals, Workout goals, goals steps, Goals Categories, Quarterly goals, Reflection, and planning, to make the most out of…, project time-line, cover page back.
(This is a digital product and no physical items will be shipped. You will receive your digital download for personal use upon payment).

---
Are you ready to be the most organized mom on the block? 
Grab your 32-page home planner 8.5 x 11 pdf printable for personal use including emergency numbers, home planners, mommy day planner, weekly mommy planner, recipes, and more!
Are you tired of living your life on the fly? Do you always feel like the mom that "doesn't have her stuff together?"

---

---
Are you ready for Fall? My favorite part of Autumn has to be the food!  Yet, it is not always easy to prepare meals and have your ingredients on hand with back-to-school underway, fall sports, and all your other fall activities.
That's why I created the Autumn Recipe Pack.
This 40-page pack includes all you will need to stay organized this fall. Read more here!

---
15-page Christmas Budget Planner to plan your family gifts, stocking stuffers, party budget, food budget, gift budget, and more!
Stay organized this Christmas and stay on budget!

---
Savings Goal Tracker
Are you ready to reach your savings goals? Use the pretty savings tracker template to help you save money and reach your money goals today. This pretty tracker is designed with you in mind. Just write your savings goal at the top and fill in a circle when you add money to your savings account or savings jar. You will achieve your goals and save more this year.

Use this 11-page checklist to help you live a more frugal life. There are 75 ideas to help you start saving more money and begin your frugal journey. You can start your small frugal journey by using one to two tips per week and continue to add on each week as you use your checklist. Give frugal living a try!

---
Cash Envelope Labels
Use these labels to keep track of your cash envelope system. Labeled and blank included!

---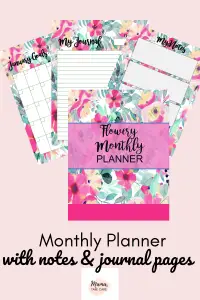 20 Page Undated Flower Planner, Blank Lined Journal Pages, Notes | Created by Momma Take Care
Do you have too much to do? Do you have goals that are not being met?
If your To-Do list is a mile long and you can't figure out why things don't get done, this planner is for you.
This undated planner will help you get your life in order and reach your monthly goals.
It has an adorable flowery background and will help brighten your mood each time you take it out to write down your monthly goals and tasks.
This planner also includes reprintable blank-lined journal pages so you can keep a journal each month. Plus, since it is undated, you can reprint it year after year.
What's included:
20 Page Undated Flowery Planner/Journal Pages
Letter-size PDF
Features:
Printable undated 12-month calendar
Blank-lined, reprintable journal pages
Reprintable notes page
This is an instant digit download product. Nothing will be shipped.
Price: $5.99

---
What you will get:
30 Page PDF printable for personal use (no physical product will be delivered)
This Planner Belongs to page
3-month gratitude goals
vision board
"I am Grateful for" sheet
The gratitude of self sheet
Gratitude jar
Monthly un-dated calendar
"I am Grateful for" drawing sheet
Gratitude activities sheet
Monthly gratitude preview sheet
Daily gratitude sheet
morning gratitude sheet
evening gratitude sheet
Weekly Preview
Weekly Reflections
Notes
Random Moments of gratitude
If you have the blues, this gratitude planner is for you. Learn how to be happier by practicing gratitude daily.

---
Purple Paint Positive Thinking Journal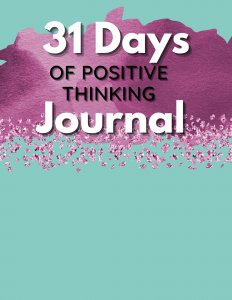 31 Days of positive thinking!
Are you feeling down lately? Do you need a pick me up? Try this amazing positive thinking journal to get you out of your rut.
Let's face it, life can be hard. It is easy to have negative thoughts and focus on the bad.
Yet, did you know you can be a happier person, by simply changing the way you think? And science shows it takes around 21 days to form a habit. So why not give this positive thinking journal a try and commit to a month's worth of positive thinking.
What you will get:
31 days of positive thinking activities and lined paper to write down your thoughts and activities for each day.
Also, a monthly view of the activities and cover page.
Give positive thinking a try with this totally cute journal for only $9.99.
(This is a digital product. Once payment is received, you will get a digital download you can print at home and use over and over.)

---
Check out my Halloween Maze PDF printable for sale this Halloween! Save your kids teach, by giving them a fun maze book this year!
What you will get:
12 Halloween mazes: 4 cauldrons, 4 pumpkins, 4 witches hats
12 solutions

---
30 pages of Halloween coloring images to get your kids ready and excited for Halloween.
This is a digital product. Once payment is received, you will receive a digital file you can print from home.

---
Stay organized and be less frazzled this Christmas with the Amazing Christmas Organizer/Budget Planner! 26 Pages, 8.5 x 11 PDF printable for personal use and undated so you can use year after year to keep your Christmas budget (think gifts, stocking stuffers, online shopping, food, parties) and organization (gift buying, decorating, meals) on track! Be the coolest, calmest mama, and enjoy the holidays!