I Heart Frugal Printables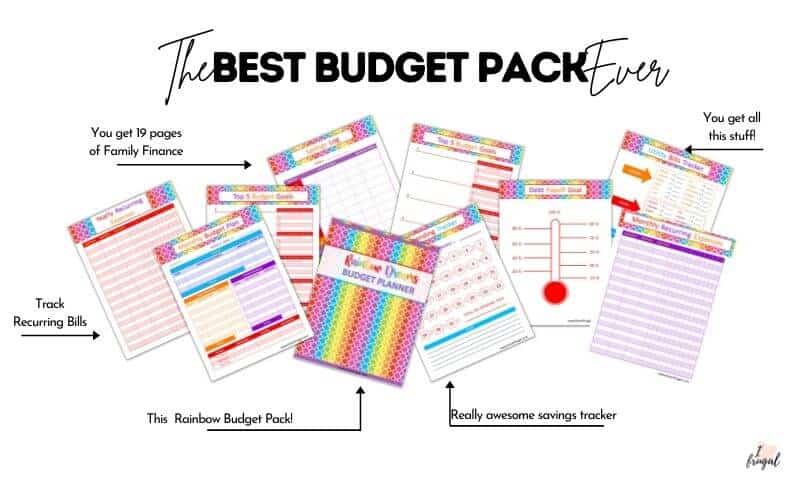 Are you ready to get your finances in order? If you want to transform your finances and you are sick of being broke and overwhelmed, this family finance budget printable pack is for you.
What you will get:
Cover Page
Yearly Recurring Expenses
Quarterly Recurring Expenses
Monthly Recurring Expenses
Utility Bills Tracker
No Spending Tracker
Weekly Expense Log
Monthly Bill Payment Log
Monthly Budget Planner
Debt Payment Log
Yearly Summary
Account Tracker
Monthly Savings Tracker
Checking Tracker
Debt Payoff Goal Thermometer
Budget Goals Sheet
Savings Log
Monthly Budget
End Cover Page
Will this work if I have no experience with budgeting?
Of course! This is your product and these detailed pages will help you learn how to budget and stay on track.
How Does It Work?
Once you make your purchase you will receive an email where you can download your printables and print them right at home (This is a digital product. No physical product will be delivered.)
But I Don't Know How to Save…
This packet will make keeping track of savings a cinch but tracking spending so you can see what you need to cut. You can also track your savings and reach your savings goals sooner.
But I'm in Debt…
You can use the debt payoff tracker to help you see how much progress you are making.
But I'm still afraid to budget and handle my money.,.
The hardest part of anything is getting started. So make sure to buy now and start your budget today. Start by writing down your top five money goals and tracking spending. This will give you a good idea of how much you have going out and how much you have coming in.
19 pages of budgeting organization for $10. Why not try it? You don't have much to lose!
This will help you keep track of spending and habits, visualize your bills, create money goals, and pay down debt.
Once you have reached your money goals, you will eliminate stress in your life and start to build wealth.
You can turn your finances around and keep a closer look at your money
This budget planner will help you live your best life and start saving for the things that matter!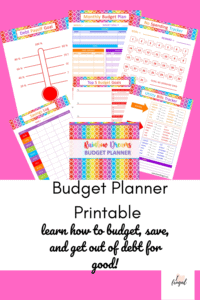 ---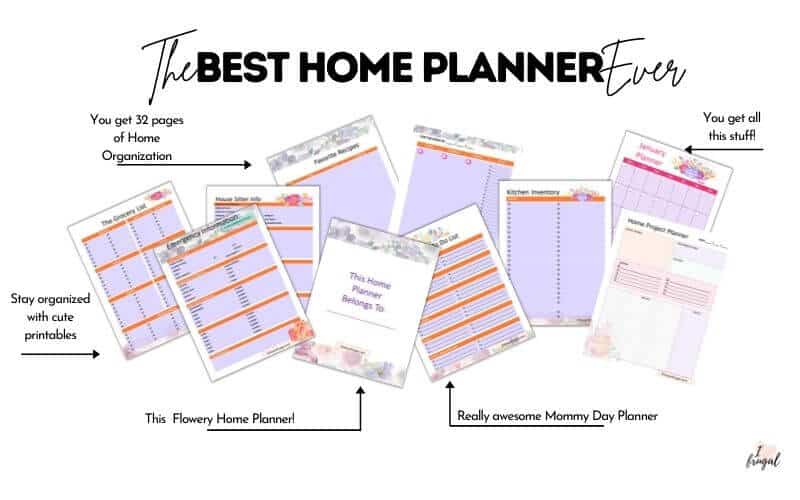 Are you tired of living your life on the fly? Do you always feel like the mom that "doesn't have her stuff together?"
Well, fear no more, mama!
The Flowery Home Organization Planner is Here!
If you often feel like your life is out of control, it is time to start taking action and planning with this super cute, Home Organization Planner.
Cover page
Emergency Information
Favorite Recipes
Grocery List
Home Project Planner
House Sitter Info
Kitchen Inventory
Master Home "To Do" List
Outdoor Project Planner
Family Recipes
Recipes to Try
Shopping List
Cleaning Schedule
What's for Dinner Meal Planner
Daily Mom Planner
Weekly Mom Planner
Undated Calendar
Notes
To-Do List
Vision Board
Get your life back together and be the most organized mom on the PTA! You've got this girl!
This planner will change the way you run your home!
No more forgotten soccer snacks or picture day money. Keep handy information in a binder so it is easy for you to find and use!
This is a digital download, Upon purchase, you will receive an email with your download and any future updates.
32 pages of home planner pdf printable including emergency numbers, home planners, mommy day planner, weekly mommy planner, recipes, and more!

---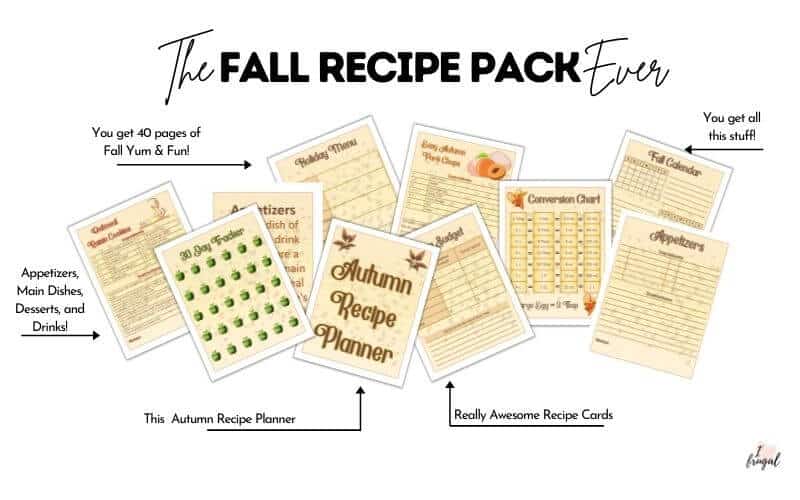 Are you ready for Fall? My favorite part of Autumn has to be the food!  Yet, it is not always easy to prepare meals and have your ingredients on hand with back-to-school underway, fall sports, and all your other fall activities.
That's why I created the Autumn Recipe Pack.
This 40-page pack includes all you will need to stay organized this fall.
What you will get:
Cover
Belongs to Page
Conversion Chart
Appetizer Divider Page
Appetizer Blank Recipe page
Complet Recipe: Cranberry Brie Bites
Complete Recipe Autumn Kielbasa
Side Dish Divider
Side Dish Blank Recipe
Complete Recipe: Mashed Butternut Squash
Complete Recipe: Honey Sweet Potatoes
Main Dish Divider Page
Mian Dish Blank Page
Complete Recipe: Pork Rice Casserole
Complete Recipe: Easy Autumn Pork Chops
Beverage Divider Page
Blank Beverage Recipe Page
Complete Recipe: Gingerbread Mocha
Complete Recipe: Easy Hot Apple Cider
Dessert Divider Page
Dessert Blank Recipe Page
Complete Recipe: Oatmeal Raisin Cookies
Complete Recipe: Chocolate Chip Pumpkin Cookies
Weekly Meal Planner (Fall Theme)
Daily Meal Tracker
Grocery List
Bonus
Plus: Thanksgiving Section with a budget planner, dinner menu planner, seating chart, and fall recipe favorites.
Also included: Two fall journal pages, a fall calendar page, and three cute fall tracker pages that can be used to track your savings, exercise, or self-care routines.
This Fall Pack will help keep the back-to-school season simple and fun. No more stress for mom!
You will be prepared for Thanksgiving and also try some new yummy fall recipes.

🍩🌽🍎Are you ready for Fall? If you want to stay organized this fall, try my Autumn Recipe Pack and Planner for all of your Fall needs. Simplify back-to-school season with these Fall Recipes, blank recipe pages, journal pages, meal planner, grocery list, and WAY more in a super cute fall theme. Get a 40-page printable PDF you can print over each year. You can check it out here:


---
Savings Goal Tracker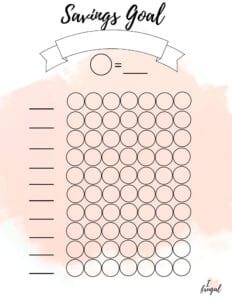 Are you ready to reach your savings goals? Use the pretty savings tracker template to help you save money and reach your money goals today. This pretty tracker is designed with you in mind. Just write your savings goal at the top and fill in a circle when you add money to your savings account or savings jar. You will achieve your goals and save more this year.

---
Purple Paint Positive Thinking Journal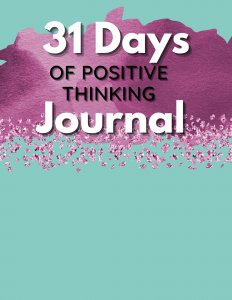 31 Days of positive thinking!
Are you feeling down lately? Do you need a pick me up? Try this amazing positive thinking journal to get you out of your rut.
Let's face it, life can be hard. It is easy to have negative thoughts and focus on the bad.
Yet, did you know you can be a happier person, by simply changing the way you think? And science shows it takes around 21 days to form a habit. So why not give this positive thinking journal a try and commit to a month's worth of positive thinking.
What you will get:
31 days of positive thinking activities and lined paper to write down your thoughts and activities for each day.
Also, a monthly view of the activities and cover page.
Give positive thinking a try with this totally cute journal for only $9.99.
(This is a digital product. Once payment is received, you will get a digital download you can print at home and use over and over.)

---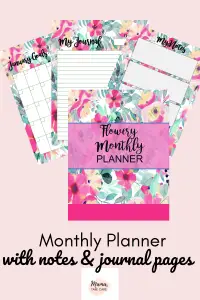 20 Page Undated Flower Planner, Blank Lined Journal Pages, Notes | Created by Momma Take Care
Do you have too much to do? Do you have goals that are not being met?
If your To-Do list is a mile long and you can't figure out why things don't get done, this planner is for you.
This undated planner will help you get your life in order and reach your monthly goals.
It has an adorable flowery background and will help brighten your mood each time you take it out to write down your monthly goals and tasks.
This planner also includes reprintable blank-lined journal pages so you can keep a journal each month. Plus, since it is undated, you can reprint it year after year.
What's included:
20 Page Undated Flowery Planner/Journal Pages
Letter-size PDF
Features:
Printable undated 12-month calendar
Blank-lined, reprintable journal pages
Reprintable notes page
This is an instant digit download product. Nothing will be shipped.
Price: $5.99

---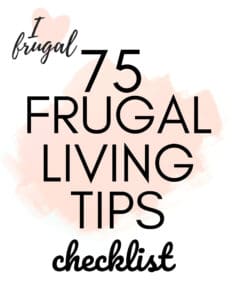 Use this 11-page checklist to help you live a more frugal life. There are 75 ideas to help you start saving more money and begin your frugal journey. You can start your small frugal journey by using one to two tips per week and continue to add on each week as you use your checklist. Give frugal living a try!

---
Cash Envelope Labels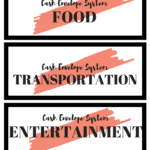 Use these labels to keep track of your cash envelope system. Labeled and blank included!