Why I Started A Frugal Living Blog – My Story
Reading through my posts, it occurred to me that I haven't given you, my readers, much information as to why I chose to start a blog.  I've been posting my recipes, deals, and tips, but before I go on… Let me tell you a bit more about myself!!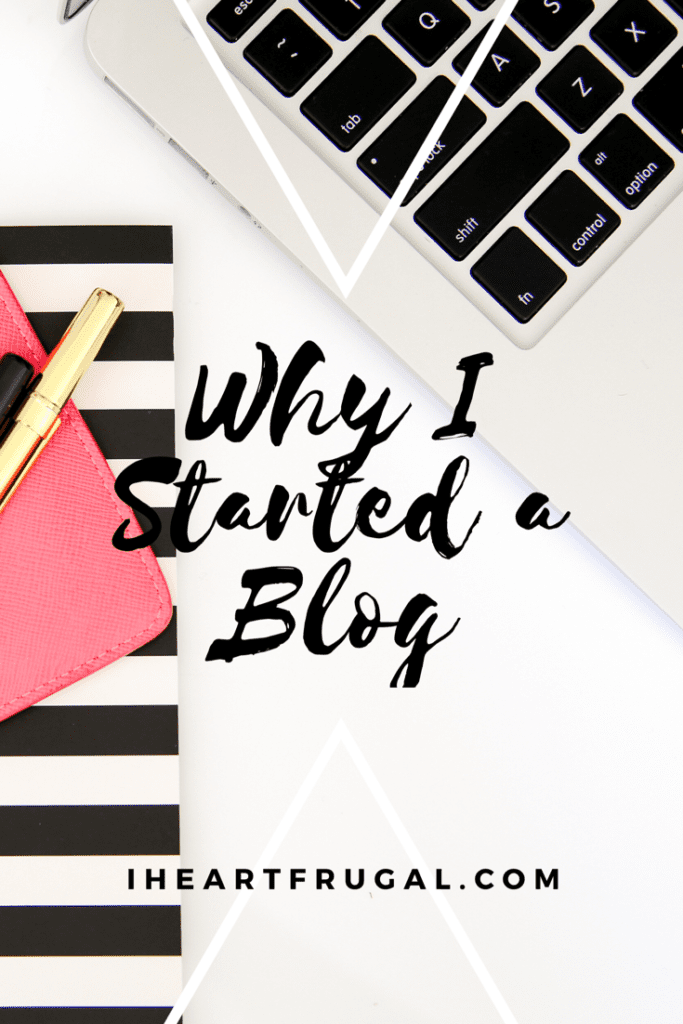 Since I was young, I have always had an interest in writing.  I aspire to write a book one day. (As I continue to research about blogging, I'm finding it is possible with an e-book). I know I am not the best writer out there, but I enjoy it, so that is good enough for me – and hopefully you too 😀.
I have also enjoyed writing in journals throughout the last few decades of my life. Writing is so therapeutic and relaxing.  It feels good to put those words on paper!
Life as a Mom
Fast forward, I am now a former special education teacher turned homemaker! Yet, I really never dreamed of being a stay-at-home mom.  I used to tell my mom that I would go back to work when I had the baby, no problem. She advised me I would change my mind once I saw my baby… And once again, mother knows best.
Related Frugal Living Posts:
After my son was born, I extended my maternity leave for as long as I could. Finally,  after seventh months of being home with just baby and me and against all my motherly instincts, I had to go back to work.
Going back to work and leaving my baby at daycare was one of the hardest things I have had to do. Not being with him made me feel like I was missing so much and I missed him terribly.  The demands of being a special education teacher in a new position (I got bumped out of my position after working for twelve years), was extremely draining and taking a toll.
Sick Days
Nonetheless, my baby got really sick from daycare and stopped sleeping through the night, due to terrible ear infections.  This broke my heart.  It was very hard to watch a seventh-month-old baby get sick time, after time, after time.  He eventually needed tubes in his ears at ten months (talk about parenting decisions and guilt).
After going through this, my school district allowed me to take a voluntary lay-off for the following school year and I again got to stay home with my little guy. He was now a happy and healthy – with no ear infections – little toddler. He was a little ball full of energy, that loved to run through the house and jump all over!  Furthermore, during that summer, I found out I was pregnant again with baby boy number two.
Now What?
Now I'm faced with going back to work and I knew after the first time, how incredibly hard it is for teachers to have kids.  How do they do it year after year?  Where does a teacher get the energy to teach kids all day long and then go home to their own kids??? I give them the utmost respect! (It goes without saying, I give stay-at-home moms this same respect!)
After my second son was born, I took a leave of absence and finally resigned. This was a hard decision, as I had been working in the same district for 13 years.  I left people I considered family, but continued my new life with my family.
Frugal Living Blog
Sitting jobless for the first time since I was thirteen, I started thinking about my frugal upbringing. I started couponing and found savings tricks to all my favorite stores (TARGET – Check out my post on Target savings tips).
My husband continues to work hard and support us. For that I am grateful. I am lucky that I have the option to stay at home with my kids. Not everyone is able to do that, but I would still like to contribute in some way.
So my idea to contribute is to combine my frugal habits with a helpful blog and see what I can make of it. I'm hoping you enjoy reading my tips and tricks to live a more frugal life! Enjoy this journey with me, friend!
What I Started a Frugal Living Blog Conclusion
You now know how I got here and why I chose to blog.  It means the world to me that you are reading my blog and helping me in my journey to stay home with my kids!
If you are a stay-at-home mom, you know it is not always easy to add another job to your plate. However, I feel with some hard work and dedication, I will be able to achieve my goals.
As always, I hope you enjoyed my post.  Leave me a comment about your story. Did you stay home with your kids? Did you go back to work?  Both are tough decisions and I support you either way. Let me know if you have any questions!
This post contains affiliate links. If you click a link and make a purchase, I will receive a small commission at no cost to you, so I thank you!
Related Frugal Living Posts: