Earn Extra Money Using Phone Apps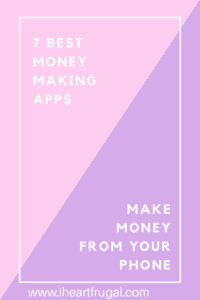 Money making apps are becoming extremely popular. Many of us are just trying to get by with our regular jobs. Then there are the families living off of one income, like mine. So some extra cash here and there can really help out.  Especially when you are earning income for something you already do, like grocery shopping or trying to get rid of unwanted clothing.
Moreover, these money-making apps are awesome at adding supplemental income and time-savers because you are not clipping coupons! So pull out your smart phones and get ready!
Some of the Apps listed below require some work, but are by far, my favorite ways to earn a side hustle, as they like to say now days!  However, they are all user-friendly and worth your time!  Especially if you are looking for some play money or want to budget for next month's grocery bill.
Nonetheless, how much easier can it be to get out your phone and download a free app that will give you earning potential.  You don't even need to be technology savvy. These apps are super user-friendly. Why not try it! You have nothing to lose. Check out the list of my favorites below!
Seven Best Money Making Apps
This post contains affiliate links. If you click a link or use a code I will receive a small commission at no cost to you, so thank you.
1. Rakuten ( Formerly Ebates)
If you have been following my blog, you will know this is one of my favorite apps. It has an A+ rating by the Better Business Bureau, so it is totally legit! I even recommend it to my Mom and she loves it!
Do you want to earn $10? Just sign up to receive this bonus!
Ebates is a site that pays you to shop. You make a percentage back of what you spend, from 1% to as high as 12%!
Ebates offers a list of hundreds of online stores to choose from including Groupon, Target, Walmart, Bed Bath and Beyond, Kohl's, Macy's, American Eagle, etc. Additionally, there are over 2,000 stores, so if you are looking for something particular, it is most likely on the list. The best part is you can still use coupon codes with Ebates.
Wondering how it works? Ebates tracks your purchase when you click a store through the site. To sign up and receive your $10 bonus, click the link below:
click here to read a full review of Ebates
2. Ibotta
A great rebate app! Ibotta gives you money back for buying things you would buy anyway, such as cereal, fruit, cookies, baby products and many, many more items. Just scan your products and upload a picture of your receipt. Finally, the money is added to your account!
You will find brands such as Kellogg, V-8, Totini's, Back to Nature, Planters and many more. Nonetheless, Ibotta introduced a new way to earn money called "any brand" about a year ago. Furthermore, this means you can purchase any brand of certain items such as milk, orange juice or bananas and receive a rebate.
Ibotta also offers rebates on wine and spirits. You can cash out at $20 for money (PayPal or Venmo) or gift cards. Sign up with my link here and receive a $10 credit!!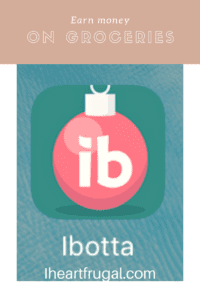 Click here to read a full review of Ibotta
3. Poshmark
I love this app!! I've made over $400 selling my used clothing. Just snap some pictures of your gently used clothing, add a description/price and you are good to go!. Sign up with code NXUIA and receive a $5 credit off your first purchase!
Click here to read a full review of Poshmark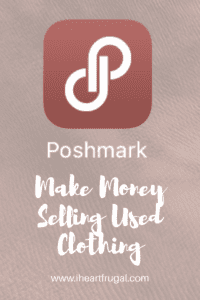 4. Checkout 51
This is also a great rebate app that pays you for mostly groceries but also at times includes diapers,shampoo or other personal care items. Just upload your receipt by Thursday of that week (items change and start over every Thursday) and cash out at $20.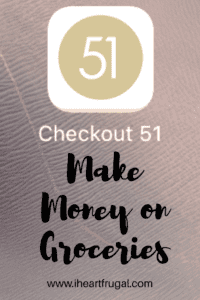 Read on for More Great Ways to Save…
5. Savings Star
This app is great because you can link your store savings cards to your account and you don't have to upload a receipt for select stores. Yet, there are some stores you will still need to upload a receipt so check their policy. They also have an online shopping mall as another earning option. Also, they often offer free items from time to time.  You will receive rebates on items purchased as well! Check it out!
6. Mercari
This is another app for selling; however, you can sell anything on this site, including but not limited to clothing. I've made around $50 on this site! Use the code UYYBUS to relieve a $2 credit.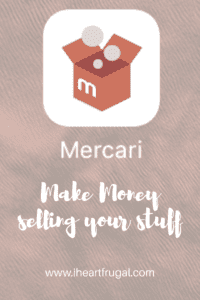 Although this is not a money-making app, I have to mention it because it is one of my favorites and it can save you tons if you are an avid Target shopper like me.
7. Cartwheel
If you love to shop at Target like me, this app is a must have! Cartwheel will help you save on virtually everything at this store! The sales vary from week to week! Nonetheless, all you have to do is scan your bar code at check out and you will receive a percent off the items on your list. For example, you can add Simply Balanced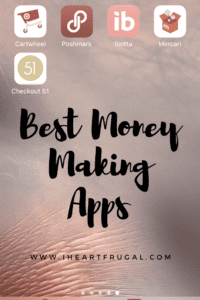 Vegetables to you Cartwheel list and receive 5% off at check out or add Market Pantry pasta and receive 10% off. (The amounts vary per an item and you can stack coupons with these savings as well.)
Click here to read more about Cartwheel and Target Savings Secrets
There you have it, my friends! I'm hoping this list helps you earn and save a bunch!!
Do you have a favorite money-making app not listed? If so, please leave me a comment! I would love to learn more about how you save! Until next time – Sarah!
For more money-saving and frugal living tips, follow me on Facebook, Twitter and Pinterest!
Related Posts:
1. How I Earned $250 for Christmas shopping



I