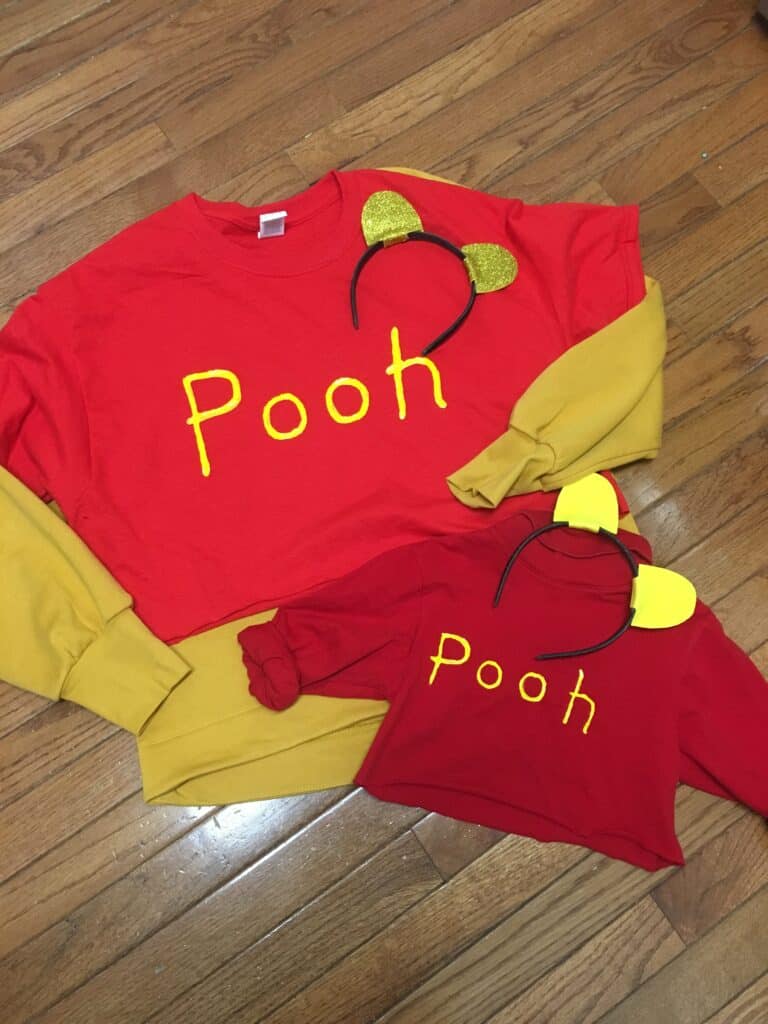 Last-Minute DIY Halloween Costume – Pooh Bear
Are you stressed out about your Halloween costume? Maybe you waited too long and can't find anything you like or the right size is "sold out."  Sometimes with our busy "mom" schedules, Halloween is an after-thought that we know we will eventually get too.
Then BOOM a Halloween event pops up two weeks before Halloween and you realize you never bought or made a costume. This can feel like a "frantic" mom moment, but today I am going to show you how to make a super easy and cute Winnie the Pooh costume to take the stress out of Halloween so you can have fun and enjoy it! The best part is the costume literally cost me $3 to make!
I got the idea for this costume because I volunteered to be my son's room parent this year. I'm on the PTA and I secretly wanted to be able to attend all of his first-grade parties. So I get the honor of planning the Halloween party for his class and in the spirit of Halloween I will dress up too, to make it more fun for the kids.
I wanted something "non-spooky" and kid-friendly. And let's face it, what kid doesn't love Winnie the Pooh? I even asked my son if he wanted me to buy a spider girl costume to match him or dress up like that silly ole' bear! My seven-year-old chose the latter. (I'm so glad he is still into kid's stuff.)
Frugal Halloween Costume Idea
You all know I am frugal and I'm going to give ya'll some price details! This costume cost me a whopping $3 in total. Considering the fact, I already had a mustard yellowish colored sweatshirt from old navy and an old headband.
However, I got my yellow sweatshirt on Old Navy's deal of the day for $10 – so $13 if you want to count that in the price. Not bad!
So let's get down to this silly-nilly business of making the costume.