Rustic Farmhouse Christmas Decor Ideas Under $25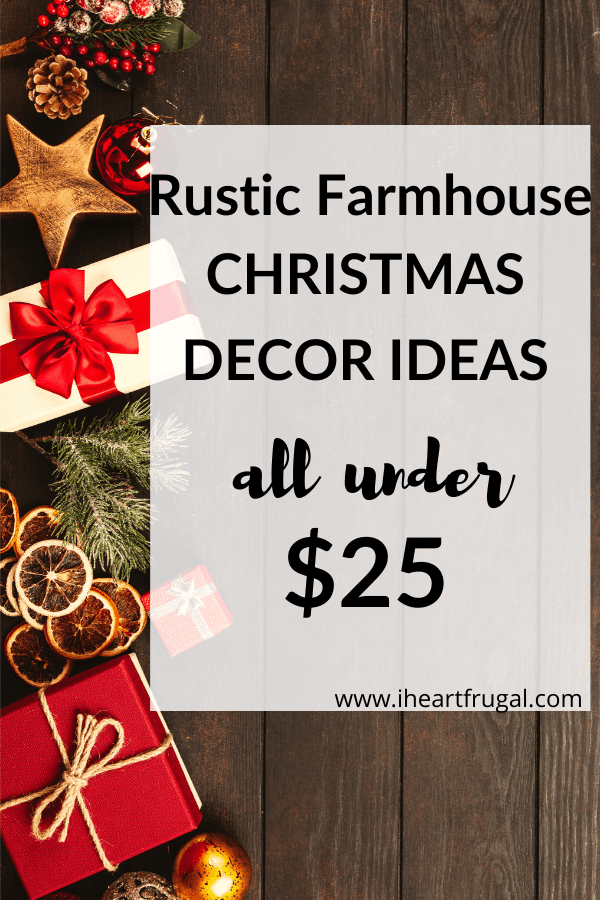 Rustic Farmhouse Christmas decor reminds me of my childhood. My grandma always had a Christmas city, a wreath on her door, and cute little wooden signs around her house. I remember how warm and inviting her house felt at Christmas time.
What Christmas decor look are you going for this year?
I personally love all of the rustic farmhouse Christmas decor ideas I keep seeing in stores and magazines. However, if you aren't careful, you could end up spending WAY more than planned and blow your Christmas budget because decorating your house for Christmas can really add up.
And most of us are already spending more than usual on Christmas presents, Holiday parties, and travel so spending a lot on decorations isn't going to work.
I personally prefer to buy items after Christmas when store sales are at their lowest. I have started to build up a collection of Christmas decorations shopping this way.
However, all the items included in my list below are under $25 so it should be easy to find something affordable.
Therefore, if you are just starting out or changing up your look to farmhouse rustic, these budget decorations can definitely get you started this year. 
The best part, they are all under $25 and can be shipped right to your front farmhouse porch.