Valentine's Day is right around the corner. And what better way to celebrate than to find ways to save money on Valentine's Day card for your kid's class. I definitely think Valentine's Day free printables are the way to go.
I have to admit,  I am a sucker for Holiday because it gives me a reason to treat my kids and see the excitement on their faces. Nonetheless, Valentine's day does not have to be one of those Holidays that breaks the bank. In fact, you can make your own kid's Valentines at home for much less than you would spend at the store.
Not to mention, this post has done all the work for you. All you need to do is decide which Valentine you would like to use this year. Or better yet, let your kids look through and decide! They will love making Valentine's Cards with you and be so proud to take them into their class this year. Also, there are several non-candy choices as many schools request this due to allergies.
Related:
30 Valentine's Day Cards With Free Printables for Your Kid to Pass Out
1. Savoring the Good has such a cute idea and you would only need to purchase a pack of pencils to create this cute Valentine for your kid's classroom party.
You are Write for me Valentine
2. Cutesy Crafts has the right idea with this adorable Pokemon Valentine. This would be great for older kids. In fact, my son is in Kindergarten and he loves Pokemon.
Free Printable Pokemon Valentines for Kids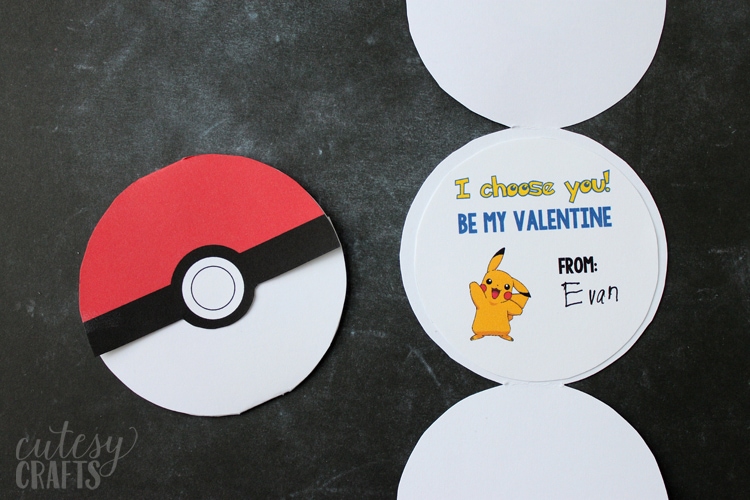 3. Tikkido has the cutest ideas with these caterpillar chocolate Valentines. I could see any preschool age child loving these cuties!
Love Bug Chocolate Caterpillar Valentines Craft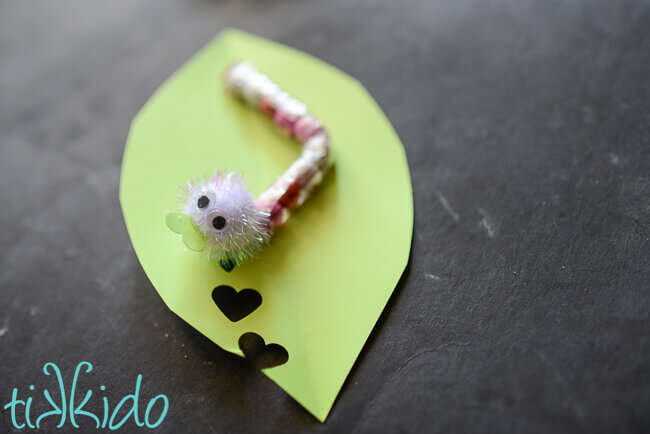 4. The Search for Imperfection has done it again with these applesauce Valentine's printables. This one is a favorite because my kids love applesauce pouches and we make different crafts for every Holiday using pouches for my son's school snack. How fun!
Your Totally Awesome Sauce Cute Kids Valentine with Free Printable
5. Paper Heart Family knows what kids like. These emojis are seriously a thing at my son's kindergarten. The kids see how many they can collect and hang them on their backpacks. Any kid would have a "happy-face" emoji if you sent these to school on Valentine's Day.
Printable Emoji Valentine's Cards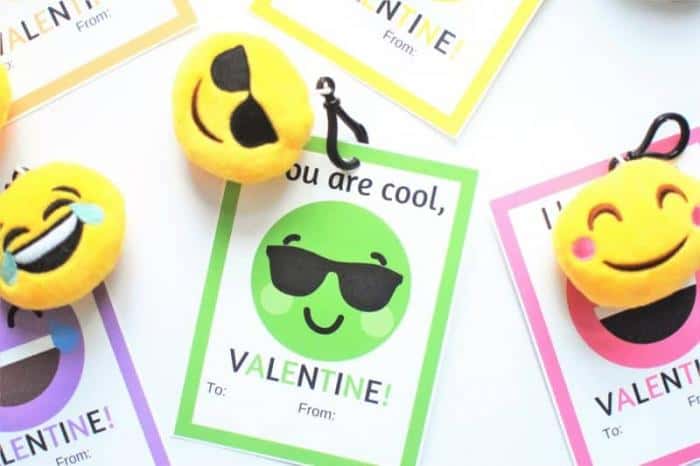 6. Mom Envy has such a cute idea! Animal Valentine's. Not to mention, Sloths and Narwhals seem to be the "in" animals lately. I see them on kid's cartoons and other shows. I am not sure I knew what a sloths or narwhals were when I was a kid!
7. Ruffles and Rainboots Valentine's will win the little girl's hearts this year (and little boys too)! These cute Unicorn Valentines are whimsical and magical! Check them out:
Free Unicorn Valentine's Day Cards Printables for Kids
8. Making Time has the entire class covered with these easy, peasy printables. Choose your theme and print them out. This is always a great time to have your little one practice writing his or her name too!
Free Classroom Valentine's Printables
9. Simple Every Day Mom has your Super Mario fan covered. These are the cutest Super Mario Valentine's I've seen and I love her super cute fox video too. You must check it out:
Super Mario Valentine's Printables
10. Ginger Casa has your Star Wars fan covered with these adorable Star Wars figures. Your kids will be running around saying "Luke, I am your father" all day long!
Free Printable Star Wars Valentines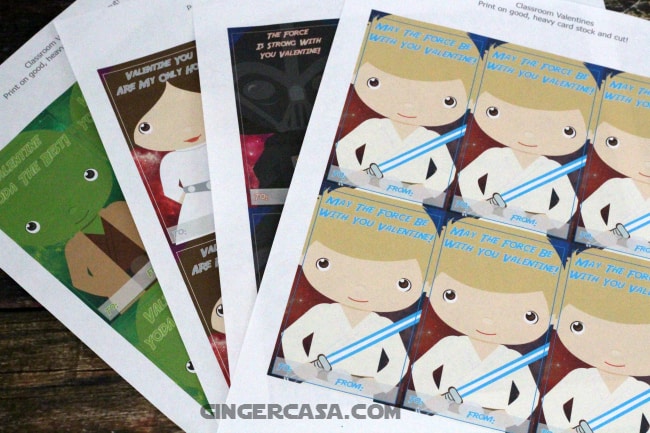 11. Home Based Life has the sweetest little bug idea with these clothes pin butterfly candy Valentines! Your kid will love helping you make this glittery craft!
12. Saving you Dinero is very crafty and unique with this make your own crayon pack. This will be a fun activity that kids will use instead of a little trinket that will end up in the trash.
Printable Valentine's Day Cards – Make Your Own Crayon Gift Pack
13. Finding Zets has a fun idea with these adorable mustache Valentine's printables. These are so cute for the kid that loves to play dress up!
Mustache Valentine Cards Free Printable
14. Salvage Sister and Mister's Valentine's idea is fun and creative. My sons had a dinosaur hatch egg kit and they absolutely loved it. I can imagine this would be a Valentine favorite too.
15. Tonya Stabb's has such a cool idea! Kool-aid Valentines! These are quick and easy to make!
I Think You Are Kool Valentine's Day Printables
More Valentine's Day Cards With Free Printables:
16. The Momma Diaries has a fun Disney themed idea! Do you have a Disney lover in your house! These are the Disney Valentine's for you!
17.  The Farm Girl Gabs idea is creative and fun! Use her free Valentine's Day printable to make a delicious treat for the class. Your kids are sure to love these smores Valentines! Yum!
S'mores Valentine's Treat Bags
18. Lemony Fizz has such a cute Unicorn Free Printable your little girl will be jumping for joy!
Unicorn Printable Valentines' Cards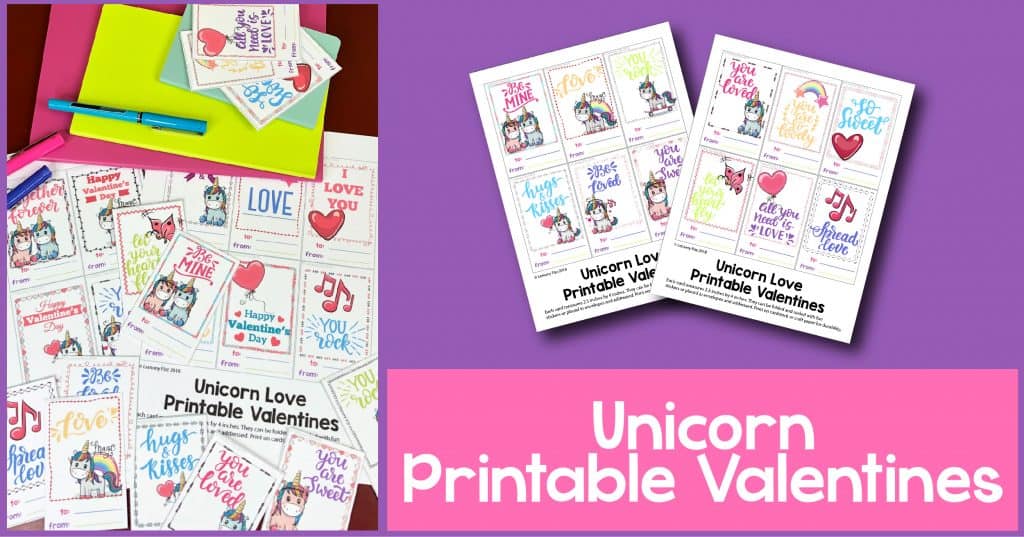 19. Quiet Grove shares a unique yet bright idea! I don't know about you, but my boys love flashlights! These would definitely be something they would use and have fun with. Great idea!!
Free Printable You Light Up My World Flashlight Valentine
20. Mom of 6 offers not one, but three Valentine's printable for the kid that loves sweet treats. And let's be real, what kid doesn't? Below is a peek at one, but be sure to click over and look at the other two before you decide.
3 Sweet Valentine's Printables for School
21. Savings Lifestyle's idea will literally blow your mind, with bubbles that is. What a cute gumball machine idea!
Gumball Machine Free Valentine Card
22. Press Print Party gets creative with this cute milk straw free printable. Your kids will love watching their milk change color and enjoying something healthy this Valentine's Day.
Free Milk Straw Printable Valentine's Cards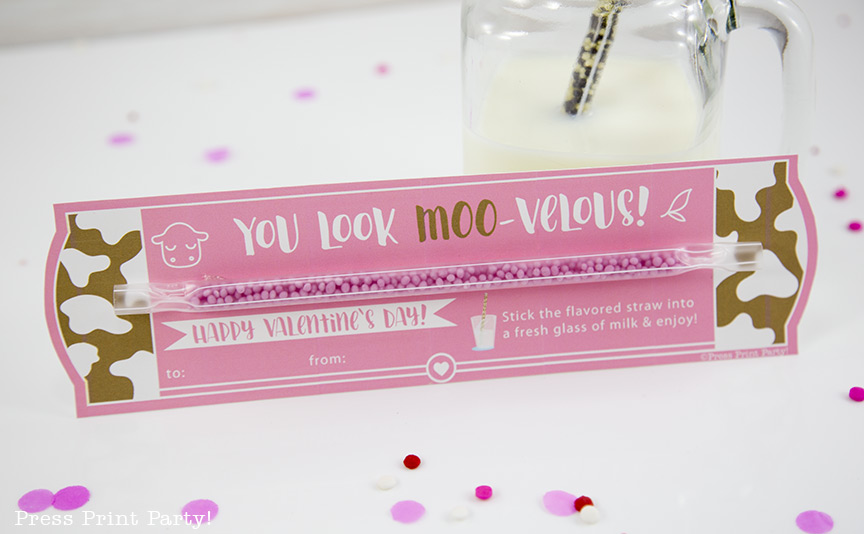 23. Saving a Teacher's Salary has a cute non-candy idea, which I love! My boys are obsessed with rocks too, so they would adore this idea! Seriously, what kid wouldn't?
You Rock! Valentine's Printable and Classroom Gift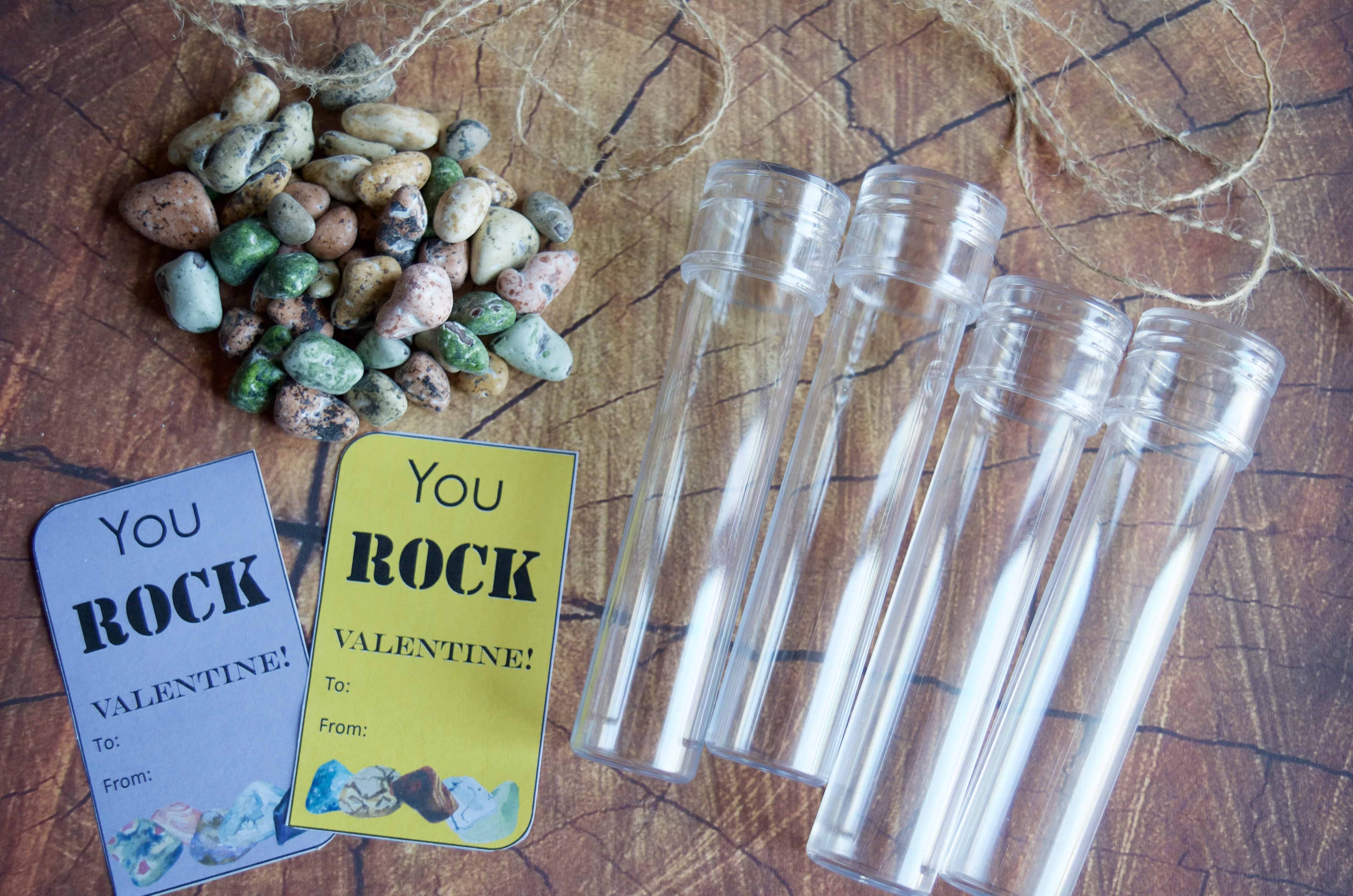 24. Craftivity Designs has a fun game free printable. This is a great game for kids of all ages! You could even use this as a classroom activity if you are helping with the party this year.
How to Make Tic Tac Toe Valentines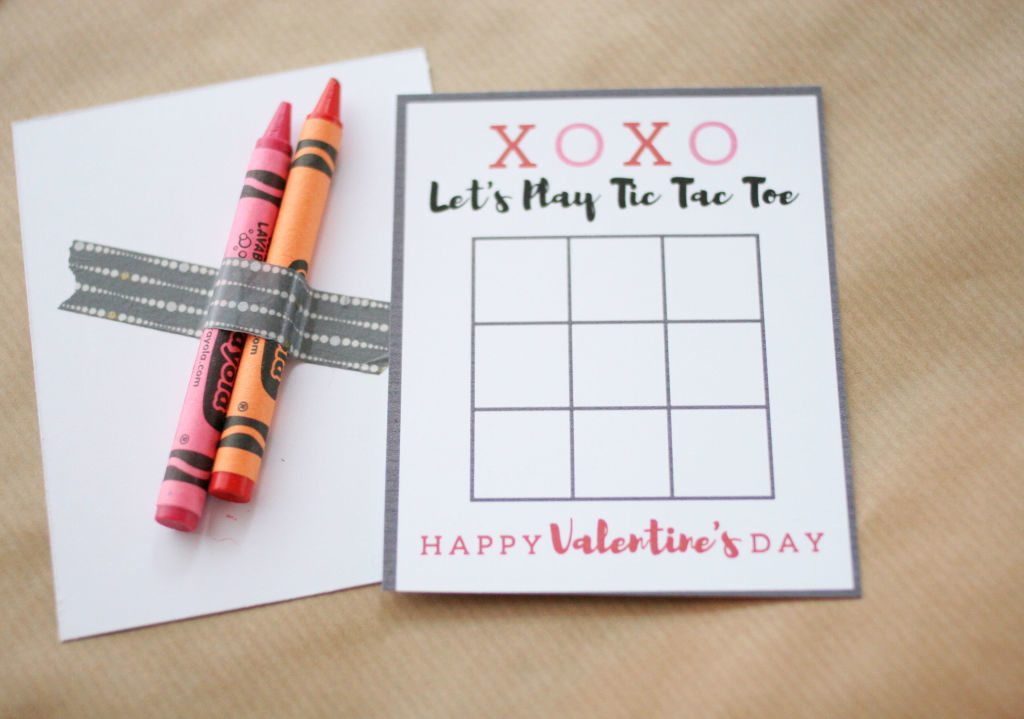 25. Natural Beach Living incorporates learning into her Valentine Gift. Since I used to teach Science, this is one of my favorites. Do kids like making Volcanos? Yes, please! Check these Science Valentines out below:
Valentine's Day Volcano Science Experiment with Free Valentine's Cards
26. This is also a great idea from Natural Beach Living: Slime fun! If your kids like getting messy – which mine totally do – then they will love making this gift!
Valentine's Day Slime – Fluffy Slime with Free Valentine's Day Printable
27. Hairs Out of Place has some fun ideas included in her post. She includes nine free printables so you can mix it up a bit. Also, check out her other free printables on her site!
9 Free Valentine's Day Printables that are as Cute as Can Bee
28. Mama Cheaps shares this idea that certainly measures up to all the other Valentine's out there. Check out her site. She has many other options to choose from!
You Rule! Ruler Valentine Idea + Printable Tags
29. Everyday Savvy shows how adorable Star Wars can actually be with this non-candy option. Glow sticks make a great class gift!
DIY Printable Star Wars Valentine's With Glow Stick Lightsabers
30. Savoring the Good has another healthy option for Valentine's day this year. Use her free printables to cover applesauce cups.
AppleSauce Cup Valentine's Day Free Printable
Valentine's Day Free Printable for the Class Conclusion:
Your kid will have a great school Valentine's Day party this year with one of the choices above! Plus you can save money on store-bought Valentine's and your kid will be so happy he or she was able to make Valentine's with you this year. It is all part of the fun!
For more money-saving tips sign up for the I Heart Frugal Newsletter below:
Which one are you sending to school this year? Leave me a comment. I would love to hear from you.