What is a spending journal?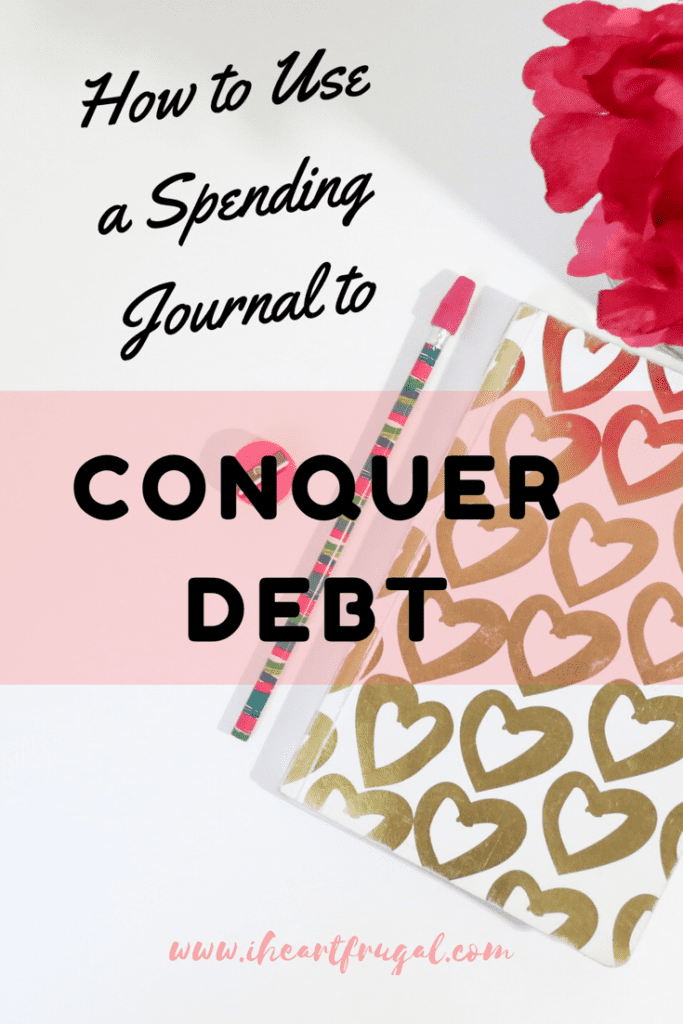 Have you ever considered using a spending journal? You may be thinking, "Why would I want to add one more thing to my "To Do" list?"  Yet, tracking your spending could be the one aspect of your budget you are missing to put the "debt free" back into your life. Nonetheless, journals come to mind when writing about feelings and yes, they are more commonly used for this type of writing, yet isn't your money journey just as important as your emotional journey? These two aspects of life are intertwined immensely.
Writing down what you spend will give you a clear picture of where your money is going and help you solve your debt puzzle. I suggest making this the first step to beginning your budget and obtaining financial freedom.
Suggested Reading: Why You Can't Get Out of Debt
Spending Journal: A written journal of all the money you have spent that week or month. I recommend tracking your spending for at least a week, but a month would be better and will give you a clear picture of how you spend. Moreover, once you have this in place you can begin to trim the fat off of your budget and use the extra money to pay down debt or save for an emergency fund or retirement.
Suggested Reading: No Money to Pay My Bills, Help!
This post may contain affiliate links. This means if you click a link and make a purchase, I will receive a small commission at no cost to you, so thank you!

Why Use this Method?
A spending journal is an extremely effective way to keep track of your money. In writing what you spend, you can learn where your money is going, hence budgeting more effectively. You can cut out the "wasted money" category from your budget and learn how to make any extra money work for you! In this way, you can "Work smarter, not harder" with your money.
Fact: The average American family owes $8,377 in credit card debt, according to Kathleen Elkins post on CNBC.com.
Tracking your spending will help you learn why you are in debt and you can begin to take better care of your finances to pay off debt. If you are not in debt, how amazing! Yet, you can also use a spending journal to help you build up your emergency or retirement fund.
Why You Should Run Your Finances Like a Business
A spending journal helps you run your money like a business. When you own a business, you must keep a ledger of the money coming in and going out or eventually your business will go bankrupt. In business, it is important to stay organized and keep things running efficiently. Why not treat your home finances like a business. If any business continued to spend more than it profited, the business would not stay afloat. Amazingly, most people do not look at their personal finances this way and just like a business can bankrupt, personal finances begin to fail. People lose houses and cars in the process.
Case in point, a friend in college loved to look fashionable. She would buy the latest fad without ever looking at the price tag. When our student loan refunds came back each semester (the part of the loan that wasn't applied towards tuition) she would run to the mall and once bought a pair of $200 boots with her refund.  I'm not saying the boots weren't awesome and she did look totally fashionable; however, after around two weeks all of her loan money was gone and she couldn't pay her rent. In order to avoid eviction, she had to borrow more money. This is a simple case of prioritizing spending. Using a spending journal will help you decide what purchases your can afford and what items need to be left on the shelf (like the boots).
So, think of it this way…Run your personal finances like a business. You can do this by writing down your spending. In this way, you will have a clear piece of your budget puzzle and then you can really piece your budget together and come up with numbers you can work with. Then create your budget and stick to it.
Reasons you should consider this approach:
keep track of spending
create a workable household budget
spend less than you are making
save money
learn where your money is going
be in control of your money
stop living paycheck to paycheck
learn how to live debt free
My goal at I Heart Frugal is to help you budget and save money to live your best debt free life. So now that you know exactly what I'm talking about I will show you how to get started!
Spending Journal:
What you will need:
pen
paper
You can also buy a budget journal like the one in the link. However, you can create your own easily!

Spending Journal Idea
If your goal is to track spending for one week, section your paper off into categories of Date, Description, Category, Amount and if you really want to be honest with yourself note whether the purchase is cash or credit and a need versus a want.

Start tracking each purchase you make. If you are not at home, save your receipts and write them down immediately after you get home, so you do not forget or lose the receipts.

After one week, total up your amount. If you want to do a monthly budget, do this for four weeks and see how much you have spent countered by how much you have coming in.
Here is a sample picture of a Spending Journal I created by hand, but this could just as easily be made on a spreadsheet: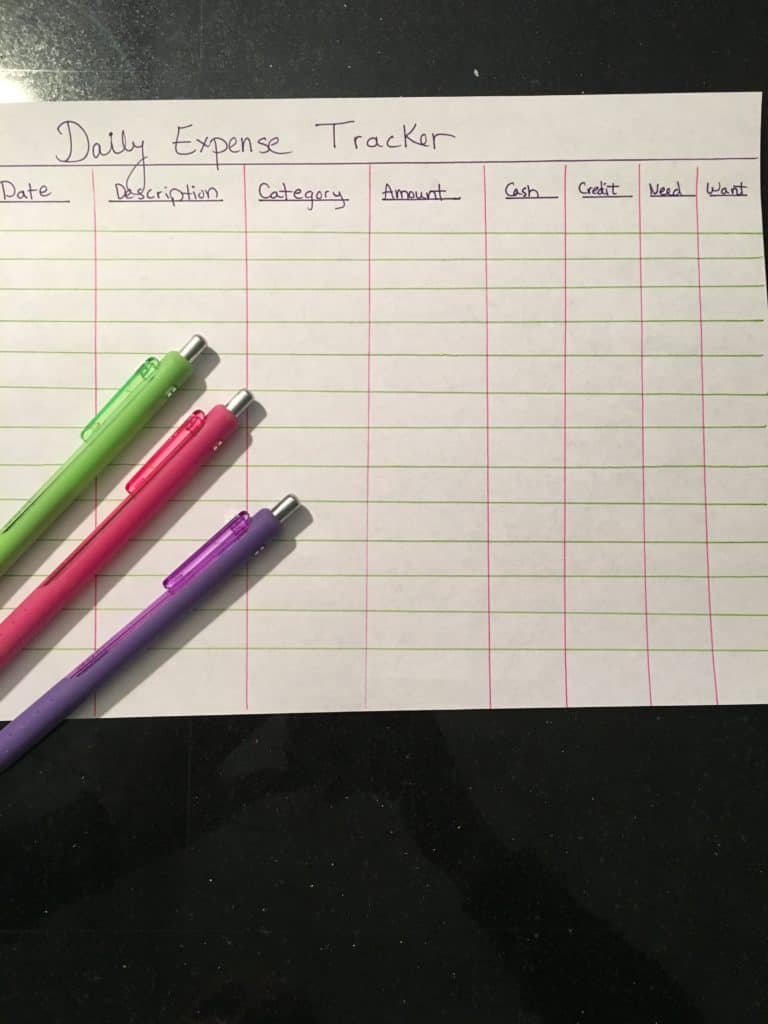 Congratulations! You just took the first step on your debt free journey. Tracking your spending is the first step and implementing your budget is next.  For an example of how to budget, check out my budgets 2017 post.
Once you have a starting point, you can decide what you can afford to cut and implement your plan. For instance, can you make your morning coffee at home or buy your snacks for the week at the store instead of paying gas station prices?
Other Ideas to Cut Back Spending:
bring a lunch
eat at home
create a shopping list
meal plan
do your own manicure
cancel your gym membership
cut the cable cord(go with Netflix or Hulu)
use  coupons
organize your bills
To Summarize
After keeping track of your spending using a spending journal, create a workable budget. Begin cutting spending as needed.
Find little areas of spending that can be eliminated and start a surplus of money to pay down debt and save for an emergency fund. After building up savings, invest money into a retirement fund.
Keep track again for the next month and compare. Were you able to cut your spending and create a budget? Was there anything left at the end of the month to pay down debt or save?
If you reduced spending and got your budget on track, kudos to you! If you fell short again and had to rely on credit cards, try revisiting your budget and making more cutbacks. Here is a post to help cut spending on your grocery bill.(click here)  Also, check out my post of 75 side hustles. You may need to hustle for a while until you get your debt under control.
I hope my post helps you on your path to financial freedom! For more money-saving and budgeting tips, sign up for my I Heart Frugal Newsletter below:
Take care – Sarah
Related Posts:
1. Stop Spending Like You Are Rich When You Are Not
2. How to Get Out Of Debt in 11 Easy Steps
3. Start Saving for an Emergency Fund Now!
4. 10 Ways to Save Money Every Day