We often hear people talk about a need versus a want and the impulse to spend? However for the average impulse spender, this may sound like a foreign idea. If we want it, we need it, right? Impulse buys are one major way to throw off your budget.  Nonetheless, being able to have impulse control over spending could really save you money.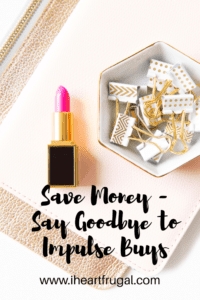 Why,why,why???
You may be asking, why would I want to do this? I like shopping! I love treating myself and I love the thrill of spending!
Yet, do you ever have that feeling of emptiness after you bought an expensive item you didn't need? Have you ever bought something to make yourself feel better? Well this post is for you (and let's face it 90% of us have-including myself!) Retail therapy used to be my stressor's best friend.
So what is a need?
There are the basics. For example, we need food, water, clothing and shelter. Additionally, paying your mortgage/rent and utilities are big needs. If you have children you will need diapers and baby food. Additionally, we all have transportation costs. In fact, needs vary from person to person. Therefore, prioritize what you really need. Then if you have money left, buy your want! (That's after saving too.)