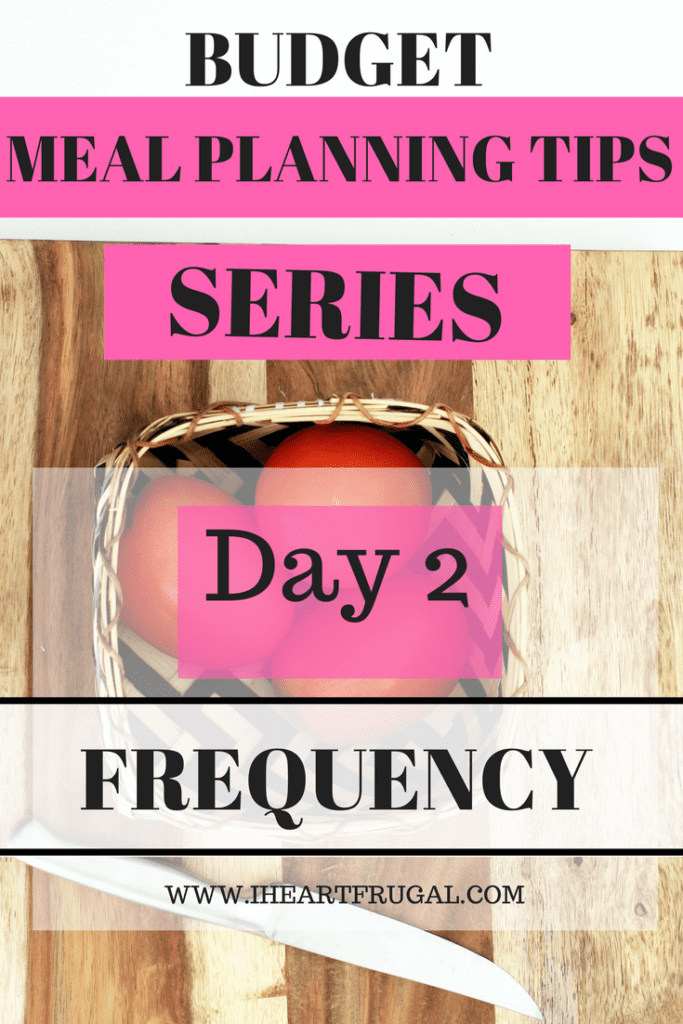 One great meal planning tip is to plan your frequency. This means how often you will meal plan.  Your meal planning frequency will determine how much food you buy, how often you visit the store and your food budget for the meal planning cycle. There are people who meal plan every week or bi-weekly and some plan up to an entire year of meal prep (even I'm not that organized!)  I recommend bi-weekly meal planning because it is easier to stay organized and you only have to go to the store twice per month.
Remember, the less you go to the store, the less chance you have to throw "impulse buy" items into your cart.
Keep in mind, you can double the bi-weekly meal plan to create a months worth of meals while only eating the same meal twice per month.
Day 1 –  Best Meal Planning Tips Series to Make You a Pro – Introduction Day One
Day 3 – Budgeting
Day 4 – Shopping and Food Prep
Day 5 – Stay Sane
This post contains affiliate links. This means if you click a link and make a purchase, I will receive a small commission at no cost to you, so thank you. This site uses cookies for a better user experience. For more information read our disclosure policy here.
Don't forget to sign up for your free Meal Planning and Menu Templates here:

Meal Planning Frequency Options:
Weekly Meal Prep
Weekly meal planning is a great place to start, but I would strive for bi-weekly after you get the hang of it. If you meal plan weekly you are shopping often and we all know what happens when we go into a store? We buy more!
Advertisers know what they are doing! Think about why they have placed those dollar bins at the front of Target or placed milk and meat in the back of the store…Because you have to walk through the entire store viewing all the sales and advertising attempts. Unfortunately, it is SO hard to resist and we end up with a bunch of items in the cart that we did not intend on buying.
However, weekly is a great place to start and dip your feet into the meal planning water!
Bi-Weekly Meal Prep
This is my favorite option and most of my meal plans on I Heart Frugal are bi-weekly. Why? Because bi-weekly meal planning is totally doable!
One thing I like to keep in mind with bi-weekly meal planning is to eat perishable foods within the first week and then opt for frozen vegetables/foods in the second week, so you are still getting good nutrition but not wasting produce and perishables.
With this option, you are only in the store twice per month. Bi-weekly also saves time because you only have to plan meals twice per month which will take you around 30 minutes for each planning session.
Yes, it does take a little more careful planning, but you can use my examples until you get the hang of it.
Check out my best post of all time here: Two-Week Budget Friendly Meal Plan
Monthly Meal Prep
Monthly meal planning is a great option but requires organization. With this option, your grocery list should be very detailed and you will need to make sure you are buying enough food for the entire month. Yet, your monthly meal planning can be simplified.
If you can't think of 30 meals for an entire month try doubling my bi-weekly meal plan but still go shopping two times a month if needed. This makes monthly meal planning a breeze!
If you choose this option, make sure you have a detailed shopping list and space out extra time to do a month's worth of grocery shopping.
Meal Planning Frequency Conclusion
Meal planning is a spectacular way to save time and money. You have less stress at dinner time and this is worth its weight in gold if you have small children. You will be in the store less often and be less tempted to buy on a whim! Be sure to decide your frequency before you start your plan and you will be on your way to saving!
Stay tuned for my next meal planning in the series tomorrow: Budgeting for Meal Planning!
Sign up for the I Heart Frugal Newsletter and never miss a money-saving post:
What is your favorite way to meal plan? Please leave me a comment! I would love to hear from you!
Take care – Sarah