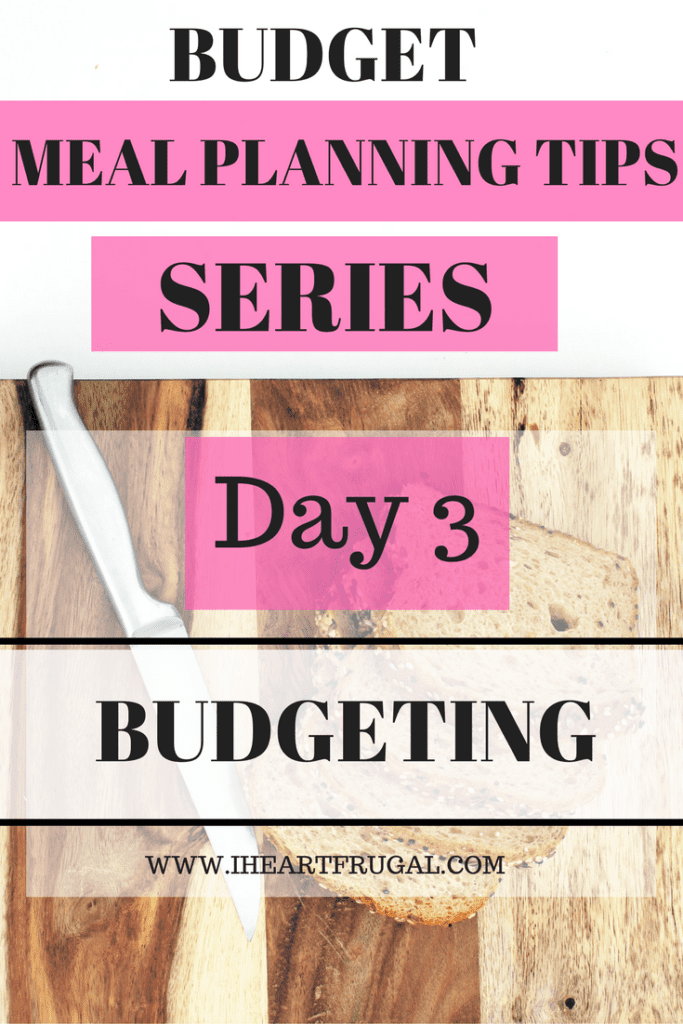 What is your food budget? How much do you spend on food per month?
If you want to save money on groceries, the first thing you need to know is how much you spend on groceries regularly.
If you do not know this number, that is okay. You can start tracking your grocery spending or you can do a reverse grocery budget. (Use credit card bills or receipts to see how much you spent last month or you can always do a rough estimate.)
Most likely, if you are new to this whole budget thing, you probably haven't been paying close attention to where your money is going.
Yet, if you are in debt, cutting food costs is an easy way to save. You can pay off your debt with your extra money and still have plenty of delicious meals.
This post contains affiliate links. This means if you click a link and make a purchase, I will receive a small commission at no cost to you, so thank you. This site uses cookies for a better user experience. For more information read our disclosure policy here.
Get your free grocery tracker here:
Each time you spend money on food in the next two weeks, write it down. This will give you a good idea of how much you are spending and how much you will save by meal planning.
If you don't feel like waiting for two weeks, try a reverse budget. You can go back and write down all of your food purchases for the past month on the tracker. This will give you a clear idea of how much you spend on food.
Let's say you realized you were spending $600 per month on groceries. It would be reasonable to cut that number down to $400 (if you are buying food for a family of four) by using meal planning. You can then take that extra $200 and pay down your debt or save for an emergency fund.
This may not be the most fun thing to do, but in the long run, you will be thankful you took the time to start saving.
Suggested Reading: 7 Money-Saving Secrets to Dramatically Slash Your Grocery Bill
Suggested Reading: New Year, New Budget
Start Meal Planning
After you have got your budget down, you know how much money you are working with.
Whenever I start my meal plan, I like to do a quick inventory of what I already have in my cupboards and refrigerator. I do not like to waste food so I try to use up anything I find by adding it to my meal plan first. Think bean burritos if you have a can of refried beans or a Chinese meal if you have a surplus of rice. Go ahead and add these meals to your plan and as you write out your grocery list, you will not have to purchase these items for your meal.
Suggested Reading: How to Create a $40 Meal Plan Your Family Will Love
If you are new to meal planning, click below to receive your free meal planning pack (meal plan, menu, and grocery list templates)
After you write down meals using your on-hand ingredients then plan out the rest of your meals for that two-week period.
Once you have an entire two weeks of meals planned out, write out your grocery shopping list to make sure you have all of your ingredients on-hand so you will not have to run back to the store where you will most likely be tempted to make impulse buys. I like to write out an estimate of how much each item costs and if you are frequently buying the same thing, it is easy to remember the price. If you check out any of my meal plans on the site, you will see a grocery list with prices to make it easy for you.
Make it Easy
If this sounds like I am speaking a foreign language it is easy to simplify the process above by using meal plans I have already created or joining a company called $5 Meal Plan.
$5 Meal plan is a company that does the planning for you. They have different meal plans for different diets and they do all the work. Their meal plans are budget-friendly and the best part is you can try them for free! Click here to sign up for your 14-day free trial and see if they are right for you.
Here are a few meal plans I have created on the I Heart Frugal Blog to get you started. Frugal living blogs are great places to look for meal planning ideas.
Two-Week Budget Friendly Meal Plan for under $75
14 Effortless Fall Budget Meals Your Family Will Love
How to Create a $40 Meal Plan Your Family Will Love
More Ways to Save:
Ibotta
In any post about saving money on groceries, I have to include my favorite rebate app. I recommend this app because I have earned over $100 back on grocery rebates and it is easy to use! No clipping coupons.
All you have to do is download the app and after you shop submit a picture of your receipt. It is as easy as that! Check out my full review: Ibotta review
Sign up for Ibotta here and collect your $10 bonus!
Coupons
Couponing is fun, but it IS work and it does take time and organization. However, if you can save $10-20 per week with coupons than it is worth it. My best tip is to let others do the work for you. I prefer to check sites such as Krazy Coupon Lady and Bargains to Bounty for coupon match ups. Couponing is a great way to cut your grocery bill.
Budgeting for Meal Planning Conclusion
Follow these easy steps and you will be on your way to saving money on your grocery budget! You will find with some careful planning you will be on your way to living a debt-free life and it will feel amazing! If you pay off your debt, begin saving for your emergency fund and plan for your future.
Cutting your food cost is one of the easiest and doable ways to help your budget.
Be on the lookout for my next post on shopping and prepping your food in my five-day meal planning series.
Sign up for my newsletter below and never miss a money-saving post:
How did your first shot at meal planning pan out? Do you have any great meal planning tips you can share with all of us? Please leave me a comment below!
Take Care – Sarah