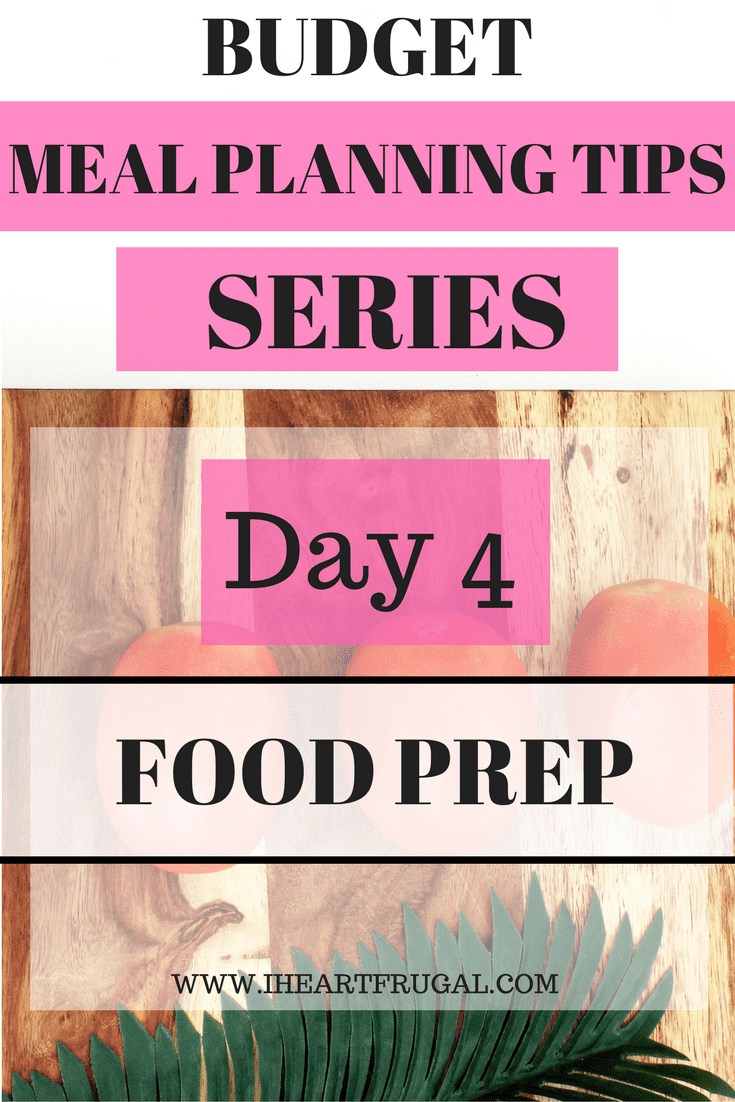 In today's Meal Planning Tip we will discuss shopping and food prep for your meal plan. This may sound like an easy tip, but when you are planning meals you must consider the shelf-life of the food or you may end up wasting it…And of course, wasted food equals wasted money.
By now, you have an idea about why you should meal plan! It saves you time and money and you are WAY less stressed out when dinner time rolls around! If you are looking to save money, your food budget is always something you can cut! Through careful planning and shopping sales, your grocery budget will go down tremendously!
This post contains affiliate links. This means if you click a link and make a purchase, I will receive a small commission at no cost to you, so thank you. This site uses cookies for a better user experience. For more information read our disclosure policy here.
Check out the Rest of the Meal Planning Tips Series here:
Group your foods into three categories
Before planning your dinners, it helps to group your food into the categories listed below:
Must Eat First – This would be fresh meat you do not plan on freezing, produce, and anything that will go bad quickly. These will be used in the first few days of your meal plan.
Freezer Friendly – This will include frozen food. Remember you can freeze your meats if they will be passed the date before you plan on eating them. Don't forget to take things like meat or pizza dough out to thaw the day before you plan on cooking. For example, I will often freeze ground beef for spaghetti. Then I will take it out at least 24 hours before. It helps to write this on your plan as a reminder.
Long shelf life food – This category could include canned beans or pasta and sauces. These will be the last meals to go on your list because they will not expire and will last for several months.
By grouping your food, you will eliminate waste and not have to worry about throwing away an entire head of brown lettuce because you forgot to use it. Hence, If you put it on the meal plan at the beginning of the week, you will be good to go and not waste your favorite foods.
How to Shop
An easy tip when grocery shopping is to plan around what you have in your cupboard and then buy in bulk.
It pays to do the math when grocery shopping. Check the unit price for items to see what would be a better deal. For example, would it be cheaper to buy rice in bulk than an individual packet? Remember this is a food with a long shelf-life, so you can afford to keep a big pack around for a while.
You could also buy larger portions of meat that will last for a few meals such as a bag of frozen chicken breast or a large portion of pork that can be divided up.
Buying in bulk will save you money. Of course, you can shop at stores like Sams Club or Costco, but you can also buy in bulk at your local grocery stores. Bulk items will help cut cost off your grocery bill and if you have extra it can be used for your next round of meal planning.
Be sure to use produce first like apples, cucumbers or carrots which are a favorite in our house. You don't want to end up throwing away fruit or veggies that have spoiled. We all know fresh produce can be pricey and this is like throwing your money in the trash can.
Keep your shopping simple and make sure to set aside a time you can shop by yourself. Bringing the kids along will result in extra items in your cart.
Bring your list and stay on track.
Do not shop while you are hungry! Research shows people spend more when they shop while hungry.
Keep an organized coupon binder if you are using coupons and remember to stock up when items you use often go on sale like cereal or pasta.
To learn more about lowering your food bill check out my 7 Secrets to Dramatically Slash Your Grocery Bill.
How to Prep Your Food
To save time, it helps to prepare your food in advance so you are not rushing around doing the same thing all week. Pick a day to meal prep. Sundays work great because you will be ready for the week. Make sure you have the necessary containers to store your food. We use  Pyrex Storage Set, Clear, Red, Orange, Blue, Green(20 Pieces)
and buy Ziploc Freezer Bags, Gallon, 120 Count
to avoid freezer burn. There is nothing worse than having to throw away food due to freezer burn!
Some of the best prepping options are as follows:
Cut up onions, tomatoes, lettuce for salads or recipes at the beginning of the week.
Cook sides that will last for a few days such as potatoes
Cut up and portion vegetables that can be frozen
Create meal prep bags with meat and seasoning and/or sauces that can be tossed into the crock pot
Section meat into meal-sized portions (I do this with bulk pork chops bought from Costco)
Put snacks for school or outings in individual baggies so you can pop them in backpacks
I often buy frozen vegetables because they last longer, are easy to cook, and still hold a lot of nutrients. You could always use your fresh produce the first week and save the frozen veggies for week two.
Once you have figured out what foods you already have in your cupboard and have written your meals for the next few weeks, create a grocery list accordingly.
Be sure to grab your Meal Plan Pack here: (Includes a menu, meal plan, and grocery list template)
As you can see in this post, (Budget-Friendly Dinner Meal Plan – Two Weeks Under $75) I wrote down my two weeks of meal planning and then wrote out my grocery list with estimated prices. In this way, I will know exactly what I am spending. Of course, you can always use my list if you don't have time to do all of this, but these are tips to use if you decide to create your own meal plan. You could also do a bit of both if you have some favorite recipes you already make and want to swap them with the ones in my meal plans.
I suggest keeping a recipe bank. You can store your go-to recipes or create a board on Pinterest where you keep your pinned recipes. BTW I LOVE Pinterest for recipes! Join the other 100,000 million users and start getting free recipes and follow me by clicking my Pinterest link here to see my favorite money-saving/making and meal planning pins.
Shopping and Prepping Conclusion
Shopping and prepping your food will save you time and money. Make sure you have the right containers for storage and plan your meals accordingly so you do not waste food items. Use your coupons and Ibotta app to save more money and take that extra money to pay down debt or save for an emergency fund! Get ready for meal planning! You've got this!
How is your meal planning going? Please leave me a comment! I would love to hear from you!
Sign up for the I Heart Frugal newsletter and never miss a money-saving post:
Take care – Sarah