Easy Ways to Save Money Every Day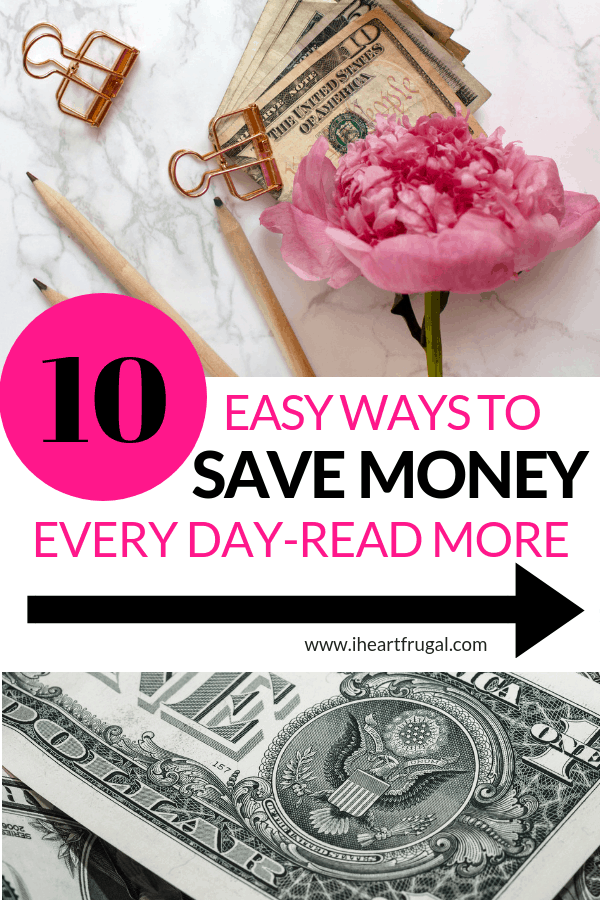 Saving money isn't always easy. In fact, many of us scrimp and save, just to get by. Nonetheless, there are many easy money tips and tricks to help keep your budget on track. So saving more money means keeping more in your pocket.  Learning how to save money every day will help you save money every month and little by little you will build up your savings account. The best part is it doesn't have to be hard and there are ways to save money on a tight budget.
Unfortunately, over half of Americans do not have enough money saved to cover one month of expenses. According to a recent study by Bankrates.com, 20% of Americans don't save anything and 47% only save 1-10% of their earnings. Yes, most people are one emergency away from going over the top into debt.
Saving money is important and some of the best ways to get on top of your money problems are as follows:
use a spending journal
create a budget
find ways to save more money
find a side hustle
create sinking funds or separate accounts
plan for retirement
By starting a budget, you will learn how to save money on a daily basis. If you are stuck on starting your budget, get your free budget template here:
No matter what you are saving for, it is best to have a goal in mind. Learning money tips and tricks will help you keep money in your pocket and you will reach your money goals.
The list below features many ways I use to save money. With a family of four, it is easy to go over budget, especially on groceries for kids.  However, I have found that if I continue to practice the tips below, I have a few extra bucks in my pocket at the end of the month and I hope you will too.
This post contains affiliate links. This means if you click a link and make a purchase, I will receive a small commission at no cost to you, so thank you. This site uses cookies for better user experience. For more information read our disclosure policy here.
Related:
Ways to Save Money Every Day
1.  Save Money by Finding Free Activities- There are so many fun activities in cities or local areas that are free.  Local parks, libraries, bike rides, and family walks are just a few.  Many times libraries offers classes and celebrations that are free, but you must sign up in advance. If you are at a loss for ideas, here is a list of 55 Summer Activities for Kids that are Frugal or Free and 20 Free Family Holiday Activities.