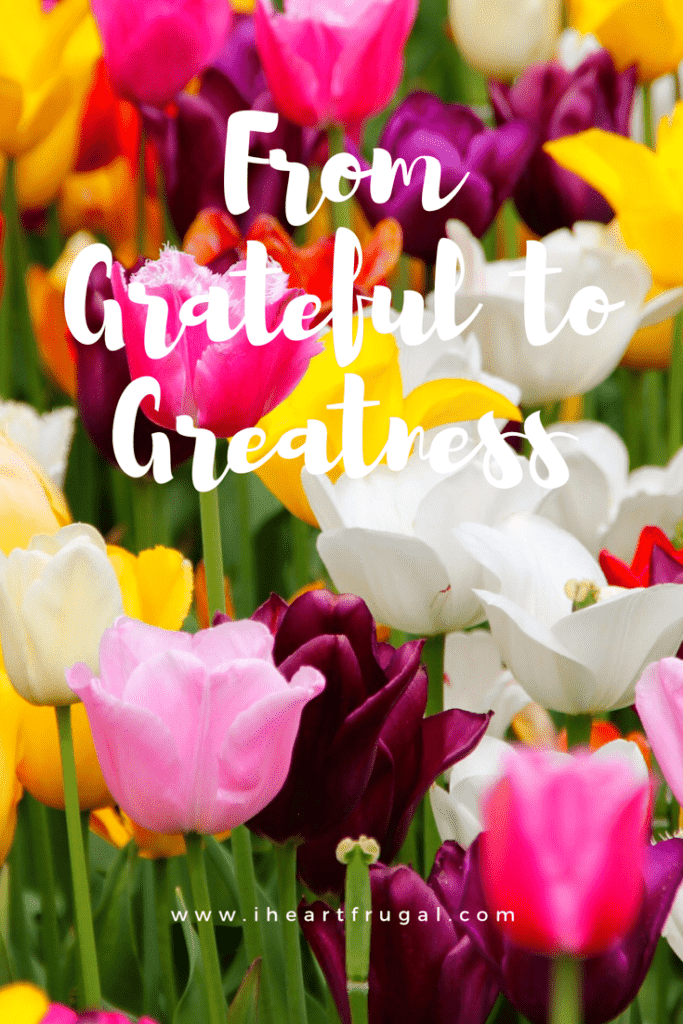 I have to admit, I fell a tad behind on my "Grateful to Greatness" series. Ironically, after writing a post about being grateful for my health, my entire family came down with the stomach flu.  The illness took up another week of our lives and I'm happy to say, we have finally recovered.  We are back to being a healthy bunch and for health, I am grateful once again.
For now, this will be my last post in the series. If you missed the first two check them out below:
Grateful for Family
This week, I would like to focus on Family.  Where would we be without them? My family is so very important to me. They are there for me when I need them and at times they can drive me crazy, but I wouldn't choose anyone else to share my life with!
This post contains affiliate links. This means if you click a link and make a purchase, I will receive a small commission at no cost to you, so thank you. This site uses cookies for a better user experience. For more information read our disclosure policy here. 
Mom and Dad
My parents have always been there for me. My father, a retired prison guard, and musician was strict but caring. Like a tall mountain he watched over our family. He taught us many life lessons, but the one that stuck with me the most is to work hard and persevere.  – That is why I haven't given up on this blog, so thanks Dad.
Like a gentle ocean breeze, my mom would listen when I needed to talk. She taught me unconditional love.  No matter how crabby I acted as a teenager, she would still treat me like I was the greatest person.  Now, years later, she is still like this only she is a wonderful grandmother to her two grandchildren. Her face lights up when she is around them. I give thanks to my mom for being such a positive person in my life.
No Sibling Rivalry Here
When your parents tell you to be nice to your siblings because they will always be there for you, listen to them. When you are young, you worry about what everyone thinks. Yet, these people become fleeting images of the past because, after high school, many go their separate ways. After living a little you realize what is left. You are left with family and a few close friends. Hold them close!
My siblings know me best. I am lucky enough to have two brothers and one sister. These are the people who get me. We all have a mutual respect for one and other, having grown up in the same household.  Having the same upbringing has brought us closer because we understand the challenges each has faced in childhood. Even though, weeks may go by when we don't speak, I know if I needed one of them, they would be there in a heartbeat.  I feel blessed for having these three people in my life.
The Hubby and Kids
Lastly, I am so thankful for my husband and my kids. They mean the world to me. As you grow and move on to a separate life with your own family, this becomes your world. How lucky and I to be a mother to these two amazing boys. I've said it before in my posts, but I wish I could just slow down time! My oldest is almost done with preschool and that's it, preschool is gone! It seems like just yesterday, he was standing, a bright-eyed boy running around while I tried to snap photos of his first day. My youngest son will start preschool in the fall. I am having a hard time with letting go of my baby! He's the last one I will share these experiences with. I am going to be present and cherish each moment as they grow.
My husband is our rock. He works extremely hard so that I can stay home with our children, Because of him, I get to be there for all the moments with our children I didn't' want to miss. He works overtime to take care of us and provide for us. I don't know many people who work 16 hour days at least a few times a week. Furthermore, I am lucky he was okay with me resigning from my teaching job to stay home with our children. I know this is not possible for everyone so again, I am grateful.
One Lucky Lady
So at the end of the day, do I feel lucky? You bet I do! Yet, I know not everyone has time to spend. I know not everyone has their health or family and friends close by. Therefore, this series has made me take a look at my life and recognize how lucky I really am. The material things in life do not make us great! It is the people and the times we have with them.
Being a frugal living blog, I must always ask, how does this translate to money? In short, people should come first. If you are in debt and down on your luck, who will be there for you?  Many of us will turn to our families in times of need.
However, I'm not saying your family should pay your debt or give you money, but if you are down about the way your budget is going, your family can listen. They can teach you. Your family can motivate you to do better.  Also, they can offer you a cup of coffee and sit down to figure things out. Take advantage of that time. Find ways to spend time with them and there are many ideas that do not cost much or are free. (Take a look at my "How to Reconnect with your Spouse on a Budget" post for date night ideas).
Don't Sweat the Small Stuff
A favorite saying of mine, "Don't sweat the small stuff – Remember, it's all small stuff." This resonates as I write. None of the petty stuff really matters in this life. What matters are the people around us.  All of our stuff will be left behind one day. The people we share our lives with will carry on our memories and I want these memories to be ones of great joy!
I hope you have enjoyed this series and it has helped you to bring more gratitude into your life. Remember you can go from grateful to greatness and whatever your greatness is, I hope you achieve it. Until next time…
Take Care – Sarah