Looking forward to that bookmark of the New Year and making resolutions? It feels like a weight has been lifted and a fresh clean slate is readily waiting.
I'm excited about what the New Year has entail for me and my family and I'm wishing you all the best, my friends!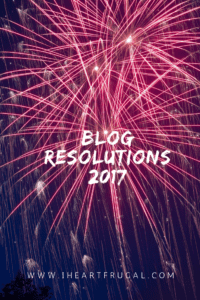 As it is the norm to set personal New Year's resolutions, it is also important for me to set some blog resolutions as well! I haven't always been a fan of resolutions because I believe, if you want to do something, you should just do it! However, I do get it.  It just feels good to have a deadline to start anew and try to do things differently in the new year.
I'm a planner by nature and having something written helps me drive my car into the right direction. I'll be driving towards success this year (I hope:-). So come along with me for the ride!
I'm hoping to improve my blog and learn as much as I can in 2017. So without further adieu… drum roll please… here is what to look for in my iheartfrugal.com blog in 2017!
Blog Resolutions
1. Write 100 posts
  Plan: I will be writing at least 100 posts and I have 80 different ideas, so I am ready!
2. Freebie for email
  Plan:  I am going to sit down and read some tutorials.  I still need to figure out how to do this and I have some great resources saved to Pinterest.  I just need time to get busy…and peace and quiet. This might have to wait until my son is at school.
3. Content upgrades
  Plan:  I am going to go over some of my earlier blog post and make sure they are easily readable and add content as needed.
4. Graphics upgrades
  Plan:  Some of my beginning posts need picture improvements.  I am going to add some new pictures and/or delete some of the old ones.
5. Grow email list
  Plan:  This is an area I am struggling with.  I will try some of the ideas I learned from watching webinars and listening to podcasts.
6. Grow Social media
  Plan:  I am going to increase my Pinterest following to 5000 followers. (I've been doing pretty well with Pinterest lately). I am going to increase my Twitter following to 2000 followers.  I haven't got into Instagram for my blog yet, but plan to tackle this one as well. Right now I am focusing on Pinterest, Facebook and Twitter to help increase blog traffic.
Additionally I would like to:
7. Increase Income
  Plan: I would like to make some income for my blog to cover my expenses. I feel by increasing my traffic, I will be able to achieve this goal. I plan on putting some of the income from affiliate marketing and adds back into the blog.  It will help pay for classes I've been wanting to take and a theme upgrade
8. Upgrade theme
  Plan:  Be on the outlook for a new theme in 2017. The theme I want is from Bluchic. I love their feminine themes but the premium themes cost money and I would like to make a little before investing more.
9. Write an e-book
  Plan:  I am thinking I will improve my blog and then tackle this project.  I am thinking mid-February. I will write a page a day and be on my way!
10. Create an online course
  Plan:  I will use my feedback and different Facebook groups on frugal living to come up with an outline for an online class. This project will likely begin in April of 2017.
I'm making a plan and mapping it out week by week and month by month! I'm excited because I have so many ideas for posts in the New Year and I am going to make it happen!
What better way to start my goal setting and action plans than to buy a planner!  I used planners like a madman (woman) when I was teaching. Additionally, a planner helps you keep your goals in order and with two kids, appointments and school dates to remember, this will really come in handy!
While am at it, I might as well mention a few personal resolutions…Then I will be held accountable, right?
These are some other goals I have set for myself this year!
Personal Resolutions
Eat healthier – I'm doing better with this but need to cut back on the pizza!  – One of my favorite foods!
Declutter home – This is tough with two kids but I already bought a new shelf. Now I just need some organizing bins.
Add items to Poshmark page – I am still selling on Poshmark but took a little break when the Holidays rolled around.
Make great family memories – I love doing fun stuff with my husband and kids and this will continue in 2017.
Print & make photo albums of my kids – I'm great at taking photos…Not so great at printing them or organizing them in any fashion. Furthermore, I want photo books they can look at for years to come. I just visited my parents over Christmas and I got out the old albums to show my kids.
More Goals…It's going to be a busy year!
6.Run a 10k – Last year, I ran a 5K for the first time in about five years (after my pregnancies and no sleep era). I would like to amp it up to a 10K this year.
7. Yoga – Yoga classes are in my plan for 2017!  Groupon had some great deals in 2016 and I will definitely be doing more yoga in 2017.  I need classes though or I won't force myself to do it. I love the stretching, strengthening and peacefulness of yoga.
I'm looking forward to the New year! Sincerely, I'm wishing you all the best! Happy New Year, my readers! Cheers to all of you!
What are your resolutions this year? What action plans do you have to achieve these goals? I'm looking forward to hearing from you! Leave me a comment!
Follow me on Pinterest, Twitter and/or Facebook!
*This post contains affiliate links.  If you click a link and make a purchase I will receive a small commission, so thank you!

Related Posts
1. Budgets 2017 – New Year, New Budget
2. 15 Free and Frugal Workout Ideas