Asics Review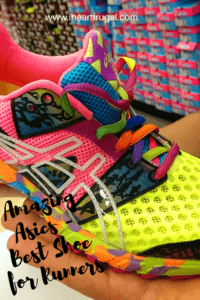 If you checked out my blog resolutions post you will remember I am going to run a 10K this year. I've done many races but took a break after having my two kids. Then I got back into running last summer and I got a new pair of shoes for Mother's Day from my hubby and kids!  Of course they wouldn't have went with any other choice than Asics! They know me too well! I laced those hot pink, cushy sole babies up and hit the pavement!
If you do races, take a minute to look around at the ground.  You will see about 70% of the runners are wearing Asics. There is something to be said about this. These shoes are comfortable, designed well, and fashionable! Hands down, they are awesome!
I have tried other brands of running shoes, but once I tried this brand, it is the only one I will wear.
This post contains affiliate links. If you click a link and make a purchase, I will make a small commission at no cost to you.
This post contains affiliate links. This means if you click a link and make a purchase, I will receive a small commission at no cost to you, so thank you. This site uses cookies for a better user experience. For more information read our disclosure policy here.
I started wearing Asics back in 2008. A marathon running co-worker recommended them and I have never raced back. (Looked back, ha ha)
What you will get… They have a gel system that really helps absorbs shock.  They have different styles but I prefer the gel. This makes your runs much more comfortable. If you are getting up there in age, like me, they also help out the old knees!
Price
Asics range in price from $40 to upwards of $100.  However, unlike other brands of running shoes, the lower priced shoes are still very good quality. I have noticed the more popular colors tend to cost more. So if you are not looking for workout fashion, you can score a pair of Asics for around $40 and if you live in a nice climate and run outside all year, $40 is a bargain for a yearly fitness plan.
Style
These comfy shoes come in different styles and colors. They have trail running shoes, cross- trainers and running shoes. There are many stylish choices and colors and they range in price. Be ready to spend a bit more for more popular colors.  Here are some styles I have found on Amazon that have between a 4-4/12 star rating:
Tip: Keep your eyes opened for sales or coupons at Kohls, Marshalls or Amazon.
I highly recommend these running shoes and remember running outside is one of my best frugal fitness tips. Wearing a good pair of shoes, that are also a good value…priceless!
Check out the different colors and varieties!
For more frugal living and money-saving tips subscribe on my sidebar or follow me on bloglovin, Pinterest, Facebook, Twitter.
Remember if purchasing online, to go through Ebates!

As always, take care!
Related Posts
1. 15 Free and Frugal Fitness
2. Target savings Secrets
3.  Ebates Review