Earn Extra Money Using Phone Apps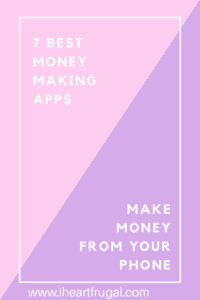 Money making apps are becoming extremely popular. Many of us are just trying to get by with our regular jobs. Then there are the families living off of one income, like mine. So some extra cash here and there can really help out.  Especially when you are earning income for something you already do, like grocery shopping or trying to get rid of unwanted clothing.
Moreover, these money-making apps are awesome at adding supplemental income and time-savers because you are not clipping coupons! So pull out your smart phones and get ready!
Some of the Apps listed below require some work, but are by far, my favorite ways to earn a side hustle, as they like to say now days!  However, they are all user-friendly and worth your time!  Especially if you are looking for some play money or want to budget for next month's grocery bill.