Looking forward to that bookmark of the New Year and making resolutions? It feels like a weight has been lifted and a fresh clean slate is readily waiting.
I'm excited about what the New Year has entail for me and my family and I'm wishing you all the best, my friends!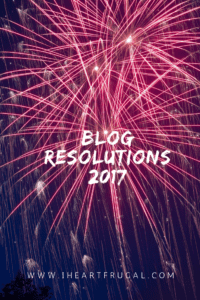 As it is the norm to set personal New Year's resolutions, it is also important for me to set some blog resolutions as well! I haven't always been a fan of resolutions because I believe, if you want to do something, you should just do it! However, I do get it.  It just feels good to have a deadline to start anew and try to do things differently in the new year.
I'm a planner by nature and having something written helps me drive my car into the right direction. I'll be driving towards success this year (I hope:-). So come along with me for the ride!
I'm hoping to improve my blog and learn as much as I can in 2017. So without further adieu… drum roll please… here is what to look for in my iheartfrugal.com blog in 2017!