Wondering what to do with all of those small little burst of Christmas joy you received in the mail this year? Christmas cards are such an old, fun tradition and they make us feel all warm and fuzzy inside. Opening up Christmas cards is the start of the Holiday Season for most! Pretty glitter, cute pictures, Holiday scenes…It is no wonder we rip open the envelope immediately upon receipt.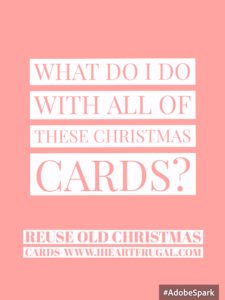 Nonetheless, I was raised not waste.  I often wonder what other people do with the cute pictures I spent tons of time on. You know, all the fun of picking out cute outfits, getting pictures, typing or writing address labels. Not to mention, these sweet little well wishes cost money?
Don't get me wrong. I love this thoughtful tradition as much as the next. With that being said, I have to admit, I have a hard time throwing away Christmas cards. It could be my sentimental side… People took time out of their busy lives to send me and my family a special Holiday note. What a great way to say you care.